Stardew Valley: Krobus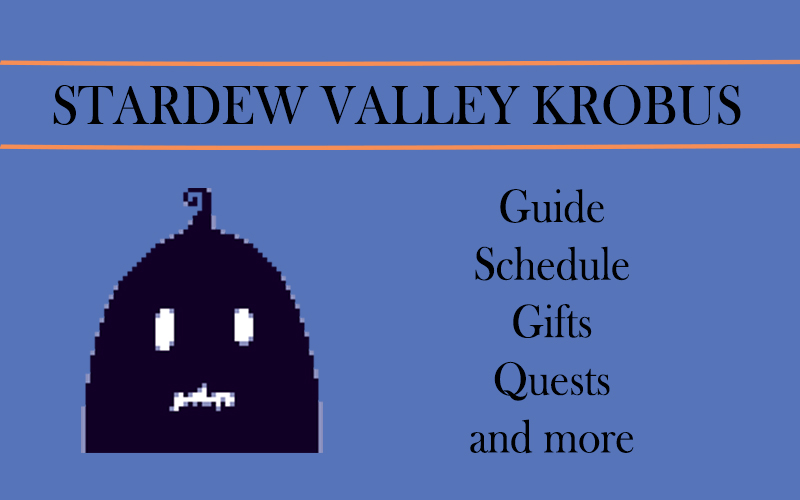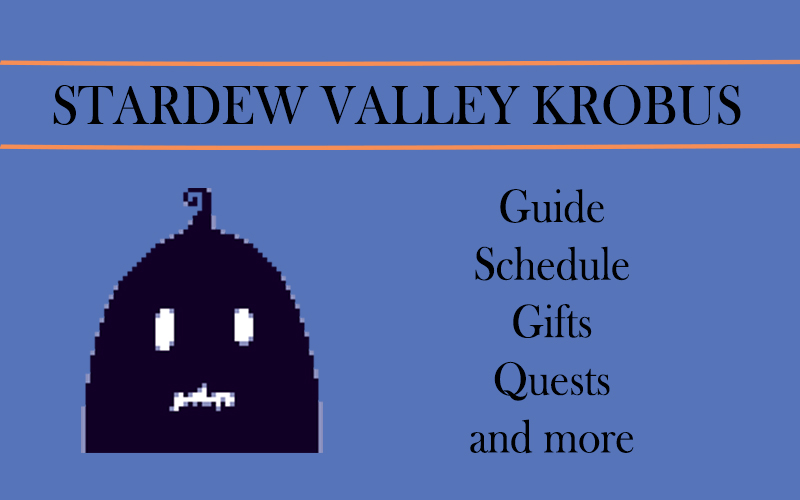 Krobus
Information
Birthday:
 Winter 1
Lives In:
The Sewers
Address:
Krobus's Shop
Marriage:
No
Best Gifts:
Diamond Iridium Bar Pumpkin Void Egg Void Mayonnaise Wild Horseradish
One of the more interesting adventures that you come across is Krobus who is a small shadowy creature that you come across early in the game. You'll find Jas and Vincent eerily staring into the Sewer grate on the southwest of town and wondering what is inside. Oddly enough it turns out to be Krobus and surprisingly enough he has a shop and is actually a nice character. He has a bad past history when it comes to dwarves, and it can probably be said that Korbus is probably the most peculiar and odd characters in the Stardew Valley game. Krobus simply lives in the Sewer and spends most of his day and night there. Krobus does tell you that he cannot go outside of the sewers during the day. If you're trying to talk to him on Fridays, he states that he remains silent this day out of respect for Yoba.
Stardew Valley Gift Guide: Krobus Edition
Krobus has a like for rare stones, but his all-time favorite stone is a Diamond. He also really likes Iridium Bars. As far as tasty treats, he likes Pumpkins and Horseradish, Void Eggs, and don't forget the Void Mayonnaise for his eggs. He has very few likes but is OK with Gold Bars and Quartz.
The Neutral stuff is all Universal Neutrals but also doesn't have much interest in All Eggs except the Void variety, All Milk, and All Fruit unless its Fruit Tree Fruit and Salmonberry. Whatever you do, be sure to not gift him a Strange Bun regardless of the fact that Shadow Brutes drop them in the mines.
It's easy to remember that Krobus pretty much hates everything else.
Quests
There is a main quest that involves Krobus called the Dark Talisman where he tells you that 'The Wizard' asked him to retrieve some magic ink which is conveniently hiding at his ex-wife's house. But the Dark Talisman is needed to get anywhere near it. To start this quest, just go into the Sewer and ask him about this mysterious Dark Talisman. You get this quest in the Railroad cutscene when you complete either the Joja Warehouse task or the Community Center task. After speaking to Krobus you need to go through the creepy Mutant Bug Lair to get the Dark Talisman. When you get it, just go back to the cave at the Railroad. The reward is access to the Witches Swamp.
Krobus has a shop that is open all hours of the day and you can find him there even on festival days. Krobus sells different stuff on different days. If you are looking for Slime, see him on Monday. Need an Omni geode? He has those on Tuesday. If you need fish he sells those on Wednesday, Thursday he sells Seeds, Fridays you can get an iridium sprinkler from him, Saturdays a food dish, and maybe not surprising enough, Bat Wings on Sundays. Apart from this stuff he always sells Void Eggs, Void Essence along with some recipes such as a Stardrop, a Crystal Floor Recipe, a Return Scepter, and a Wicked Statue Recipe.
Krobus Relationships
It's interesting to know that Krobus himself is a Shadow Brute. This doesn't make him mean and hostile. But he does consider the other monsters his friends. You won't find him talking to other villagers and he very much dislikes Dwarves and thinks that he could be assassinated if the Dwarves knew he was down in the Sewer. The Wizard knows that Krobus is there and always stops any trouble or conflict that Krobus might have.
Schedule
Krobus cannot travel outside in the sun, so he can always be found in the sewers.