Silo in Stardew Valley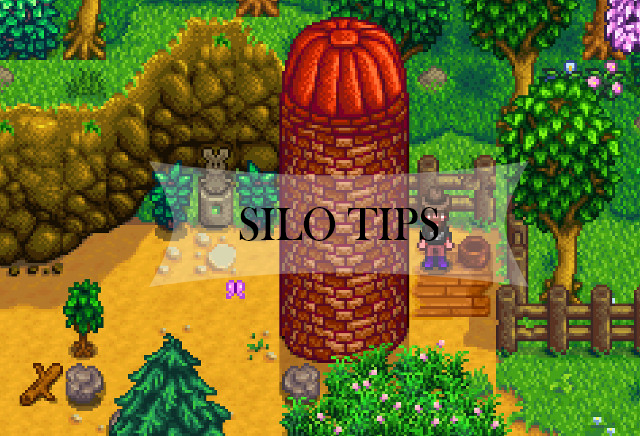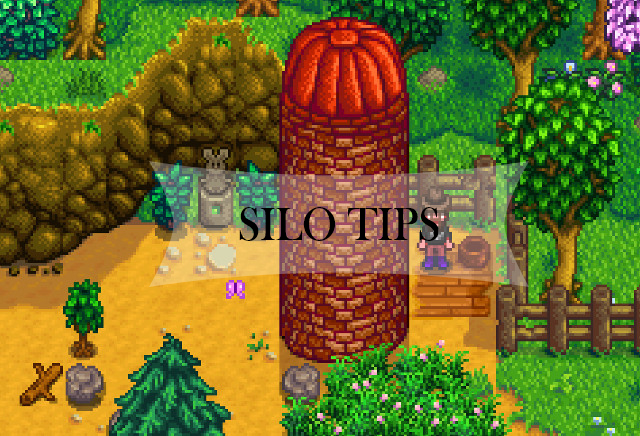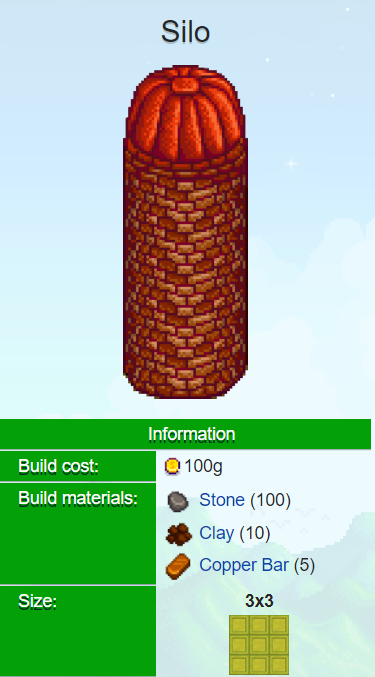 Silo is a hay storage. Silo can either be bought at Robin's carpentry house shop or crafted by yourself. It takes two days to build.
You can buy hay from Marnie's ranch for 50g per piece. Moreover, you can get hay from cutting grass with scythe (don't use a sword!). Every grass unit has a 50% of dropping a piece of hay.
You can store up to 240 hay units in a silo and use them as you wish.
But do you need a silo? Is it worth building it? Let's find out!
BENEFITS OF SILO
Grass and hay are the most important parts of animal farming. Your goal is to make your animals happy, so that they would produce milk, lay eggs and etc. Animals go out and eat grass during the day, but during rain and winter they refuse to go out and you have to feed them with hay to keep them happy and productive.
So, the main purpose of silo is to have your hay reserve filled all year long. As we mentioned earlier, animals won't go out of their barn during unpleasant weather conditions. It means that you have to stack up some hay for winter if you do not want to spend your time and money while buying hay every day.
TIPS FOR USING SILO
Even when silo has benn an useful object in Stardew Valley already, there are a few tips, which are necessary to take the most of it:
Build it as soon as possible – players usually build s silo once they need it and that is a mistake. It is pretty cheap to build and you will be happy to have so much hay stacked up once you need it. Grass is often removed to create farms. So, instead of just removing it with a sword, use scythie, build a silo and save up some hay for the future!
Don't buy hay – buy grass starters instead. Grass starter costs 100g and hay costs 50g per piece. But once you plant a grass starter, it will grow and spread to nearby tiles too, so, with a 50% chance of getting hay from a grass unit, there is a pure profit coming to you!
Build more than one silo – you will never know what happens next day in Stardew Valley, that is why you must be sure to have more hay saved up. Build two, three, five silos – they are not expensive. Moreover, you will need more than one of once you'll have more animals.
Know your limits – a single silo (240 pieces of hay) can provide food for 8 animals for a whole season. So, let's say, if you have 9 animals, you will need to buy some extra hay later or just build another silo, which costs as much as two pieces of hay!

After all, do you need silo and is it worth building? The answer is a big YES. You will save your time and tons of gold, as you do not need to bother buying hay every day.