Stardew Valley: George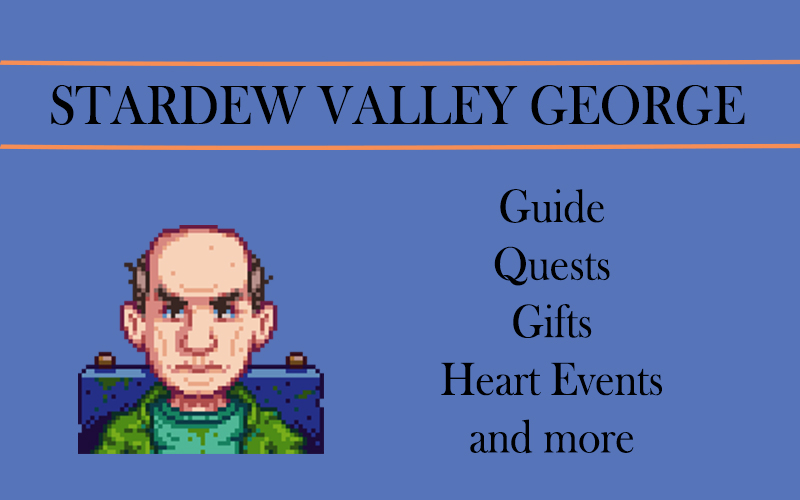 George is an old man from Pelican Town who lives on 1 River Road with his wife Evelyn and their grandson Alex. This couple also had a daughter, Clara, but she died twelve years ago. If you have eight hearts in your friendship scale with Alex, he will tell you a sad story about his mother, and how he misses her.
George is really old and he has many health problems, so usually, he doesn't leave his house. On 23rd of every month, he visits the clinic with Evelyn. You can find him at home anytime, except Sundays, when he goes to Pierre's house. Pierre has a statue of Yoba, and George comes there to pray.



Stardew Valley Gift Guide: George Edition
We decided to provide you with necessary information on gifts, so you could easily become friends with George. Give him two gifts every week, and your friendship will increase every time, in case you choose right items. Don't forget to give him birthday presents, since they cause eight times more effect on your relations. His birthday is Fall, 24th.
Leek and Fried Mushroom would be perfect gifts for George, as well as all the universally loved items. George also likes Daffodil, and all items classified as the Universal Likes. Well, almost all of them – George doesn't like Flowers.
He is neutral to such Stardew Valley gifts as Winter Root, Hazelnut, Chanterelle, Snow Yam, Common Mushroom, Morel, and Purple Mushroom.
George doesn't like Wild Horseradish and Salmonberry, and we suggest you not giving him Quartz, Clay, Holly, and Dandelion.
Heart Events
Stardew Valley gameplay includes special events which trigger when you have a certain number of hearts with some character.
The three-heart event with George is a letter from him, where he will write a Fried Eel recipe. This dish gives +1 buff to your luck, which lasts seven minutes. It also increases your energy by 75 points and your health by 33 points.
The six-heart event triggers at George's house, where he tries to get something from a bookshelf. Help him, and he will tell you why he's in a wheelchair.
The seven-heart event is a Spicy Eel recipe. This dish gives you +1 buff to the speed and luck, which lasts seven minutes. It also gives you 51 health points and 115 points of energy.



Quests
On Summer 25th, Stardew Valley George will ask you to bring him a Hot Pepper. This item may help him treat his bad knees. Help this old man, and you will be rewarded with 200 gold and a Friendship heart.
George may also ask for random things at the "Help Wanted" board. This board can be found near Pierre's General Store. The price of each requested item multiplies by 3, and you also get 150 Friendship points for each complete quest.