Stardew Valley Leah guide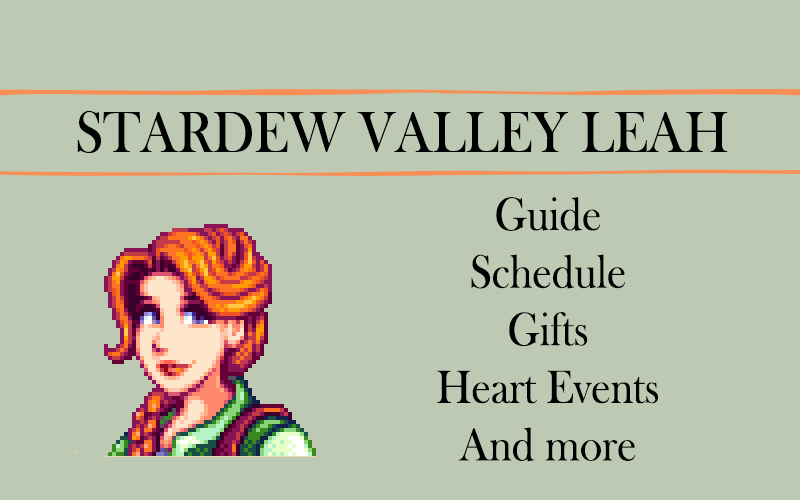 Nobody wants to be alone. Stardew Valley is no different from real life when it comes to romance and marriage. There are many villagers who you can date or marry, but all of them have their particular habits and preferences. Generally, to make somebody like you, you have to give him or her gifts. In total, you can give somebody two gifts each week, but this rule is not accepted when it's somebody's birthday. Even if you already gave somebody two gifts this week, you still must give another one. Don't forget to give birthday presents, since everybody loves them, and birthday gifts always cause more effect on your friendship with this villager. Every reaction on your gift will be multiplied by 8, so choose gifts carefully. We will consider best and worst Stardew Valley gifts on the example of Leah, below.
Well, let's talk about Leah herself, who she is, what she likes, and so on. Leah is a girl who leaves alone, far from other villagers. You can find her cottage outside of town. She is a forager, and also an artist, though not many people know about it – she's too shy to show her works in public. Sculpting is an important part of her life, and she practices in it almost every morning. To become friends with Leah, you have to visit her. Her home is available for visits from 10:00 AM. However, you need to achieve two hearts in your friendship scale first, to come in. You also have to make sure that she's home. We simplified your task, so you don't need to study her schedule.
Leah Schedule
In spring, Leah spends morning at home, sculpting. She often walks beside the lake, or in the woods. On Monday, you can find her in Pierre's General Store. On Tuesday, Wednesday, and Sunday she spends most time in Cindersap Forest, where she likes to draw her pictures. On Thursday she stands near her house, looking at the river. On Tuesday, Friday, and Saturday you can also meet her in the Stardrop Saloon. Every Spring 16th, she's at Harvey's Clinic. Her normal schedule changes when it rains. Usually these days she's at home all day long.
In summer, she often draws at the Beach. On Monday you can meet her at Pierre's General Store. On Tuesday, Thursday, and Sunday she paint at the Beach. When it rains, she's in the Stardrop Saloon.
During the Fall season, She likes to walk through Pelican Town. You can also meet her at the east side of the river. She stands above the Blacksmith, looking at the water.
In Winter, she's at home, probably all the time. At 4:00 PM she leaves her cottage and moves towards the Stardrop Saloon.



As we mentioned above, her behavior changes with weather. She spends rainy days at home, or at the Stardrop Saloon.
Stardew Valley Gift Guide: Leah Edition
To impress Leah with your gift, we suggest you to give her Salad, Goat Cheese, Truffle, Stir Fry, Poppyseed Muffin, Wine, or Vegetable Medley. All gifts from the Universal Loves category are also appreciated.
Leah likes all Eggs (except Void Egg), All Fruits, Foraged minerals (except Earth Crystal), All Milk, and Gems (except Prismatic Shard and Diamond). We also suggest you to give her Driftwood, Chanterelle, Dandelion, Common Mushroom, Morel, Daffodil, Hazelnut, Purple Mushroom, Holly, Spring Onion, Leek, Snow Yam, Winter Root, and Wild Horseradish.
Leah doesn't like Fried Egg, Carp Surprise, Pink Cake, Cookie, Ice Cream, Tortilla, Rice Pudding, Survival Burger, and Seaweed.
Never give her Pancakes, Bread, Pizza, Hashbrowns, and Void Egg. Well, unless you want her to hate you…
Stardew Valley: Leah Romance Options
Now let's take a look at so-called "heart events" – these are events that mark a certain stage in your relations, and each event corresponds to certain number of hearts.
Two heart event occurs when you enter her house. You will see how she works on her sculpture, and it's a perfect time to talk about art. Tell her that artworks are somewhat similar to people, or that you like to look at raw wood. You can also ask her, why she hasn't made an art show in Pelican Town, or why she doesn't sell her works on the internet.
Four-heart event is at the same location. You will see her talking on the phone with her ex-boyfriend (or girlfriend, depending on your gender). She will tell you her story and ask what you think about her moving out of the city, to study art. Tell her that it had to be done, or that her ex sounds like an idiot (it's a little harsh, isn't it?) Depending on your questions from the two-heart event, she will also tell you that she's going to create an art show, in case you suggested it, or that she's saving for a computer.
The six-heart event is when Leah comes to your place between 6 AM and 11:30 AM. She will give you her latest sculpture, and guess what? It's about you!
Another six-heart event takes place in the Cindercap Forest. Help her to reach a fruit on a tree.
The eight-heart event is most interesting, since Leah will either organize an art show in town, or start selling her works on the internet, with her new laptop. Anyway, you will be the one who inspired her!
The ten-heart event is really dramatic, since you will meet her ex, and even get a chance to punch him or her (depending on your gender). Anyway, if you won't, she will do it.
Enjoy our useful advice, and find your love in Stardew Valley game!