Stardew Valley Luau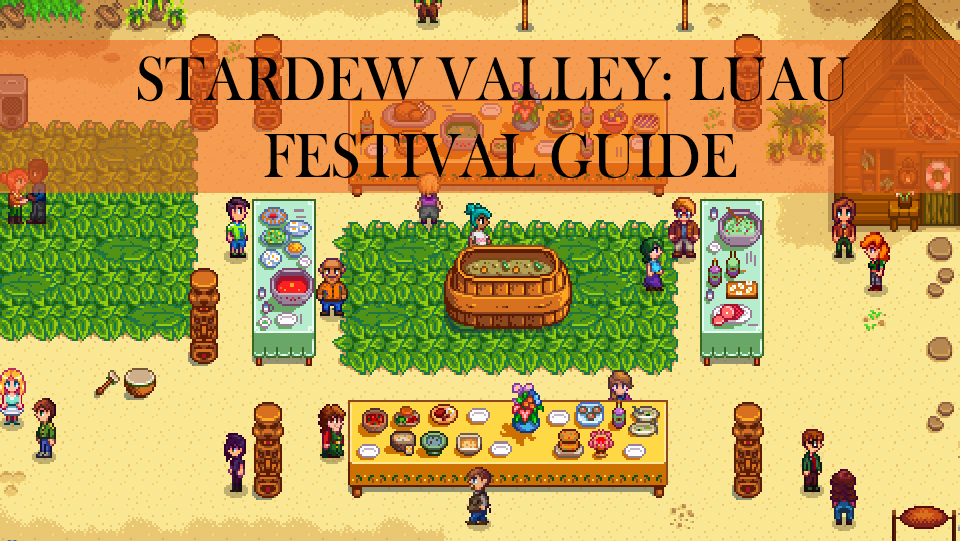 Everyone loves festivals, and in Stardew Valley, all festivals gain even more attention, since festivals are the most important events in every villager's life. One of such festivals is Stardew Valley Luau, which takes place on Summer 11th. This day, you won't be able to enter the Beach until 9 AM. From 9 AM to 2 PM, enter the Beach, and you will join this celebration. You can spend all day there, but at 10 PM, this festival will end, and you'll return to your farm.
If you have other plans for this day, make sure that you don't plan to visit somebody, since all shops and houses will be locked until the festival ends. However, we see no reasons for you to stay home, or walk somewhere else, because Luau is a significant event for everybody, and this is a day when you can demonstrate your cooking skills, since the most important thing in this celebration is Luau food. Before the celebration, you'll receive a letter from Major Lewis, where he will invite you, and note that the Governor himself will join villagers this time. The letter will also contain a simple instruction: bring something good with you. It will be your contribution to the potluck soup.
Luau: potluck soup
Everybody will be focused on a special soup, a potluck soup. The Governor will taste this soup, and your goal is to make it really, really tasty. Every villager brings some item to add it to the soup. It must be an edible item, and it must be uncooked. We suggest you to choose an item of the highest quality. As soon as you will add your item to the potluck soup, the Governor will taste it, and you better choose your item carefully, since his reaction to this soup will affect your friendship points with all villagers. Only your friendships with the Wizard, the Dwarf, Sandy, and Krobus will be safe.



If this soup will be perfect, you'll get 120 friendship points. The Governor will be impressed and say that it's the best soup in his life. If it will be good, but certainly not the best soup, you will earn 60 friendship points. The Governor may also react neutrally. He will say that it's an ordinary soup, and you won't earn nor lose your points. Of course, you can also make a wrong choice, and the soup will be bad, or, quoting the Governor, "kind of disgusting". You will lose 50 points. Thus, we suggest you not to choose Blackberry, Spring Onion, Crocus, Anchovy, Sweet Pea, Carp, Salmonberry, Daffodil, Green Algae, White Algae, Field Snack, Joja Cola, Seaweed, or Herring.
The worst Governor's reaction to the soup causes -100 points of friendship with villagers. Never even try to add to the soup following items: Sea Cucumber, Pufferfish, Scorpion Carp, Holly, Sap, or Red Mushroom. If you won't follow our advice, The Governor may even feel sick.
As soon as the Governor tastes the soup, Stardew Valley festival will end.
If you won't add anything to the soup, the Governor will say that it tastes like if something was missed. Adding Red Mushroom, you will surely make the Governor sick, and no one else will even try to taste it. Don't forget about the quality of your goods. If you will bring something of a poor quality, it will make the soup disgusting.
Finally, if you want to impress the Governor, we made a list of "100% win" items. These are Super Cucumber, Truffle, Goat's Milk, Mutant Carp, Artichoke, Chanterelle, Mead, Angler, Pale Ale, Catfish, Melon, Lava Eel, Cheese, Sturgeon, Goat Cheese, Large Milk, Ice Pip, Starfruit, Glacierfish, Legend, Fairy Rose, Mead, Purple Mushroom, and Red Cabbage. All these items must be of a gold or iridium quality. You can also try Yam, or Wine (except blueberry Wine and Salmonberry Wine).
Now you know everything about Luau, so enjoy this festival, and create your best soup ever!