Stardew Valley: Marlon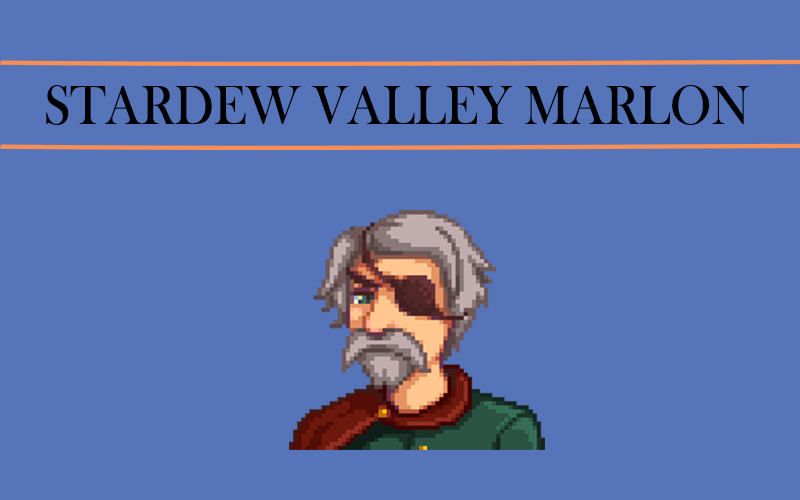 Killing monsters is fun itself, but have you ever considered getting profit from it? Let us introduce you to Marlon, who lives in the Adventurer's Guild. He rewards brave players who know how to kill monsters. You will meet this man when you enter the Mines for the first time. He will gift you a sword and teach you some features of his dangerous profession. This guy has even lost his eye in the Mines! His leg is also bad, but Marlon still manages to attend at every town festival.
Marlon lives with Gil, who often sits beside his desk in a rocking chair. These two characters of sell rings and various weapon. You won't be able to build a friendship with them nor give them gifts. However, you can buy a lot of useful and dangerous stuff here. For example, they sell Combat Boots, Slime Charmer Ring, Explosive Ammo, Iron Dirk, Galaxy Hammer, Topaz Ring, Dark Boots, Templar's Blade, Bone Sword, Aquamarine Ring, Wooden Blade, Wood Mallet, Emerald Ring, Vampire Ring, Sneakers, Galaxy Dagger, Amethyst Ring, Cutlass, Lava Katana, Claymore, Wooden Blade, Burglar's Ring, Jade Ring, Galaxy Sword, Steel Falchion, Bone Sword, Ruby Ring, Silver Saber, and Savage Ring.
Once you killed a certain amount of monsters in Stardew Valley game, Gil will reward you with some item. After this, such an item will be available for purchasing. In this case, you have to talk to Marlon. Sometimes players come to the Adventurer's Guild to get a reward, but their inventory is full. In this case, you won't get an item from Gil, though being able to buy it from Marlon in the future.

Here is a list of rewards depending on the type and number of monsters killed:
1,000 Slimes of any color – a Slime Charmer Ring (protects you from Slimes);
500 Dust Sprites – a Burglar's Ring (gives an increased probability of Monsters to drop a monster loot);
200 Bats – a Vampire Ring (restores some health points each time you kill a monster);
150 Shadow Brutes and/or Shadow Shamans – a Savage Ring (boosts your speed);
50 Skeletons – a Skeleton Mask;
125 Insects – an Insect Head;
30 Duggies – a Hard Hat.
You will also meet Marlon when you purchase the Slime Hutch. He will gift you a Slime Egg and teach you how to breed these little jellies.