Stardew Valley: Shane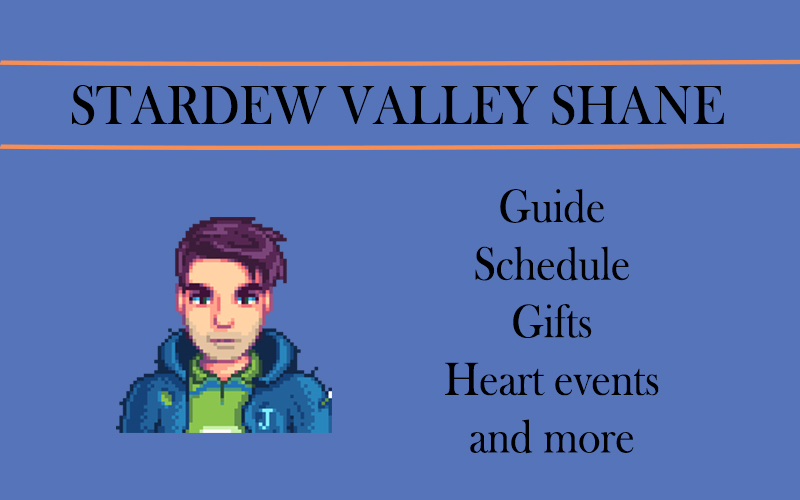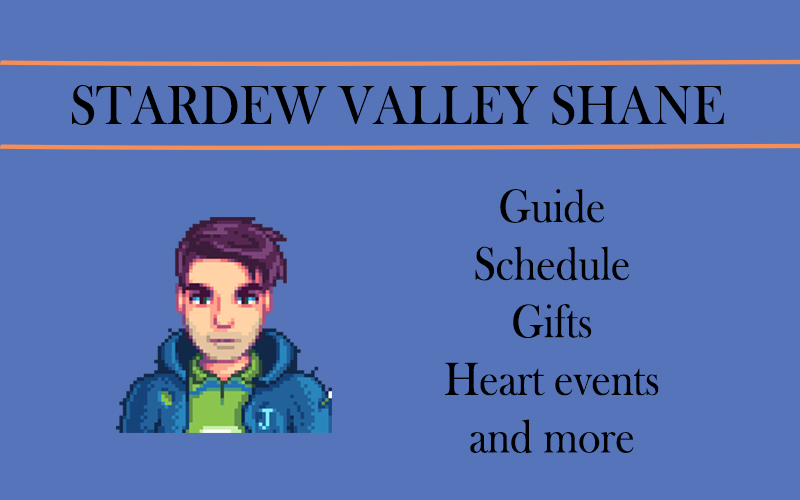 Nobody wants to be alone, and Stardew Valley villagers are no exception. You can find somebody to love, and build your relations. Generally, romance is based on giving gifts. Gifts help you either earn or lose friendship points. You cannot give somebody more than two gifts a week, unless it's his or her birthday. Pay special attention to birthday gifts, since they have eight times more impact on your friendship. You also need to participate in character's life, so we decided to make a quick guide for you. Check it out, and you will learn about best and worst gifts, as well as about favorite places of the character, so you could meet him at the right place, and at the right time.
There are twelve characters available to marry, so we keep introducing you bachelors. In this article, we are going to talk about Shane. There are many villagers that you can be surprised about, thinking "Why is such a cool guy still single?" Well, it's definitely not about Shane. He is rude, and always depressed. He also has huge problems with alcohol, so he's not the most eligible bachelor. However, who knows, maybe he can change his life, and become a good husband?
Shane rents his room from Marnie, and works at Joja Mart. Shane loves chickens, and his biggest dream is to work on his own chicken farm. Thus, you have a great chance to make his dreams come true!



Shane's Schedule
Shane's behavior changes depending on the Community Center.
The following schedule is applied if the Community Center is not restored.
In spring, if the Community Center is not restored, from Monday till Friday, he works in the Joja Mart until 5:00 PM. Then he goes to the Stardrop Saloon. On Saturday, he's at Pierre's store from 12:00 PM to 5:00 PM, and then he goes to the Saloon.
During Summer, from Monday till Friday, he works in Joja Mart until 5:00 PM. Generally, his summer schedule is no different from spring. The same situation is during fall, with a little exception: he doesn't visit Pierre's General Store on Saturday, unless the Community Center is restored.
It's no surprise that Shane is always depressed, since in winter, his schedule is exactly the same. Home, work, Saloon – and that's his whole life.
If the Community Center is restored, he spends most time at home, and in the Saloon.
Gift Guide: Shane Edition
Obviously, Shane loves Beer. He will also appreciate Pepper Poppers, Hot Pepper, and Pizza. All items from the Universal Loves category would be nice too.
Shane doesn't like Daffodil, Chanterelle, Dandelion, Purple Mushroom, Common Mushroom, Hazelnut, Seaweed, Leek, Winter Root, Morel, Snow Yam, and Wild Horseradish. He also hates Quartz, and Pickles.
Stardew Valley Romance guide: Shane 
Once you got a certain amount of hearts in your friendship scale, you unlock certain events. If you have more than zero points with Shane, he will start sending you gifts. Chances for receiving a gift increase as your friendship develops, as well as his rudeness slightly disappears.
The two-heart event occurs in Cindersap Forest, starting from 8:00 PM. Shane will share his beer with you. He will say that you may have a great future, and suggest you to be careful with alcohol. You will get a little drunk (Tipsy), so your speed will decrease by one point.
Once you achieved three hearts with Shane, he will become less rude with you, and also you will receive a letter with two recipes.
The four-heart event is at Marnie's Ranch. You will see his room filled with empty beer cans, and you'll be a witness of their dialogue with Marnie. They will talk about alcohol, Jas will cry… However, Shane will apologize then.
The six-heart event triggers in Cindersap Forest on a rainy day, from 9:00 AM till 8:00 PM. Shane will be really drunk, laying his face down in the dirt, on the edge of a cliff. He will ask you why he even should keep living, so you may say something about Jas (she's his goddaughter), or that you came here for him. It's a quite dramatic episode in your relationships. You take him to the hospital, and when he wakes up, tell him that you're happy to see him alive. It will give you +10 friendship points.
There are two seven-heart events with Shane. First of all, he will talk to Marnie, claiming that he started drinking sparkling water instead of beer. He will even give Jas a gift. The second event occurs in the town. You will need two-heart friendship with Clint and Emily to unlock it. You will see Shane filming Clint and Emily for a new Joja Cola advertisement. The prize for the best video is 10,000 of gold, so you may like to help this guy.
The eight-heart event occurs on Marnie's Ranch. Shane will show you his chickens. He's going to have the greatest eggs in Stardew Valley. He looks really happy, hugging a hen.
The ten-heart event occurs in Zuzu City. Shane will take you on a gridball game. He will thank you for your support, and then kiss you.
We wish you good luck with your Stardew Valley marriage, which will change Shane's life forever!