Stardew Valley: Walleye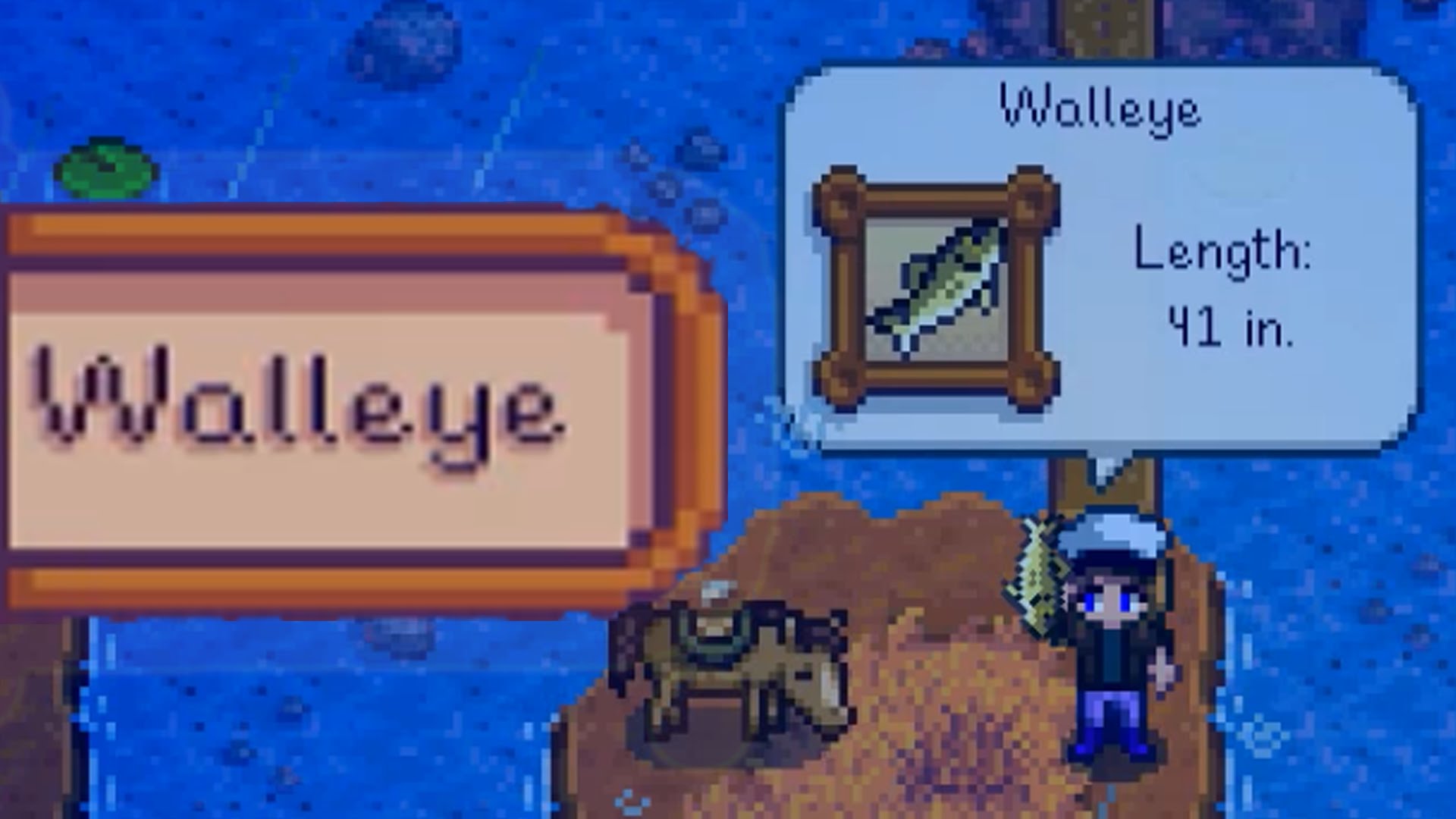 If you're tired of watering your crops on the Farm, don't rush to close the game. You may haven't noticed that Stardew Valley offers you many other kinds of activities. You don't have to be stuck on the Farm all the time. There are many professions that you can master, and you have an opportunity to develop many of your skills (mining, foraging, killing monsters) which will help you get more gold and discover new strategies of playing Stardew Valley. In fact, some of such additional activities are mini-games, and the best example of such games is Stardew Valley fishing. Fish lives in rivers, lakes, and ocean. There are many species of fish, and they vary not only by a price. Some fish is relatively easy to catch; other is rare or really tricky. Some fish can be caught only when it rains.
Generally, you can fish near any body of water, but different places have various probabilities of catching a fish. In some places, you have biggest chances to get some junk. However, junk may be used too: you can sell it for a little money, or make something useful from it in case you have a recycling machine (it requires you to have the fourth level of fishing skill).



How to Catch Walleye
Fortunately, Walleye fish belongs to the smooth group, so it's relatively easy to catch. You can find this fish in the river, pond, or lake during winter and fall. Keep in mind that you can catch it only on rainy days. You also have a chance to find this fish in any Garbage Can, but make sure that there is no villager around you, because if somebody sees you digging through junk, you will lose 25 friendship points. However, Linus won't be offended by such a picture. If your farm is located in the forest, you can find Walleye in the farm pond.
What to do with Walleye: save it or sell?
The initial cost of Walleye fish varies from 105 gold to 157 gold, depending on the quality of a particular fish. If you are a Fisher, it gives you the 25% increased price (131-196 gold). Anglers can sell their fish for 157-236 gold, depending on the quality.
During fall and winter, Walleye may be randomly requested by villagers at the "Help Wanted" board. If you complete such a quest, you'll get 315 gold, and 150 points of friendship with a villager who requested it.



However, Walleye is rather a bad gift. Most villagers either hate or dislike it, so we suggest selling it or keeping it. If you keep this fish, you'll be able to make three items:
Maki Roll – it requires one Fish, one Rice, and one Seaweed. This dish will boost your health by 45 points, and your energy by 100 points. You can get the recipe by watching The Queen of Sauce on 21 Summer of your first year on the farm or buy it in the Stardrop Saloon for 1,500 gold.
Quality Fertilizer – this thing requires two Saps, and one Fish.
Sashimi – it doesn't require anything but Fish. It increases your energy by 75 points and your health by 33 points. Get more than three hearts with Linus, and he will mail you the recipe.