Stardew Valley Abigail Guide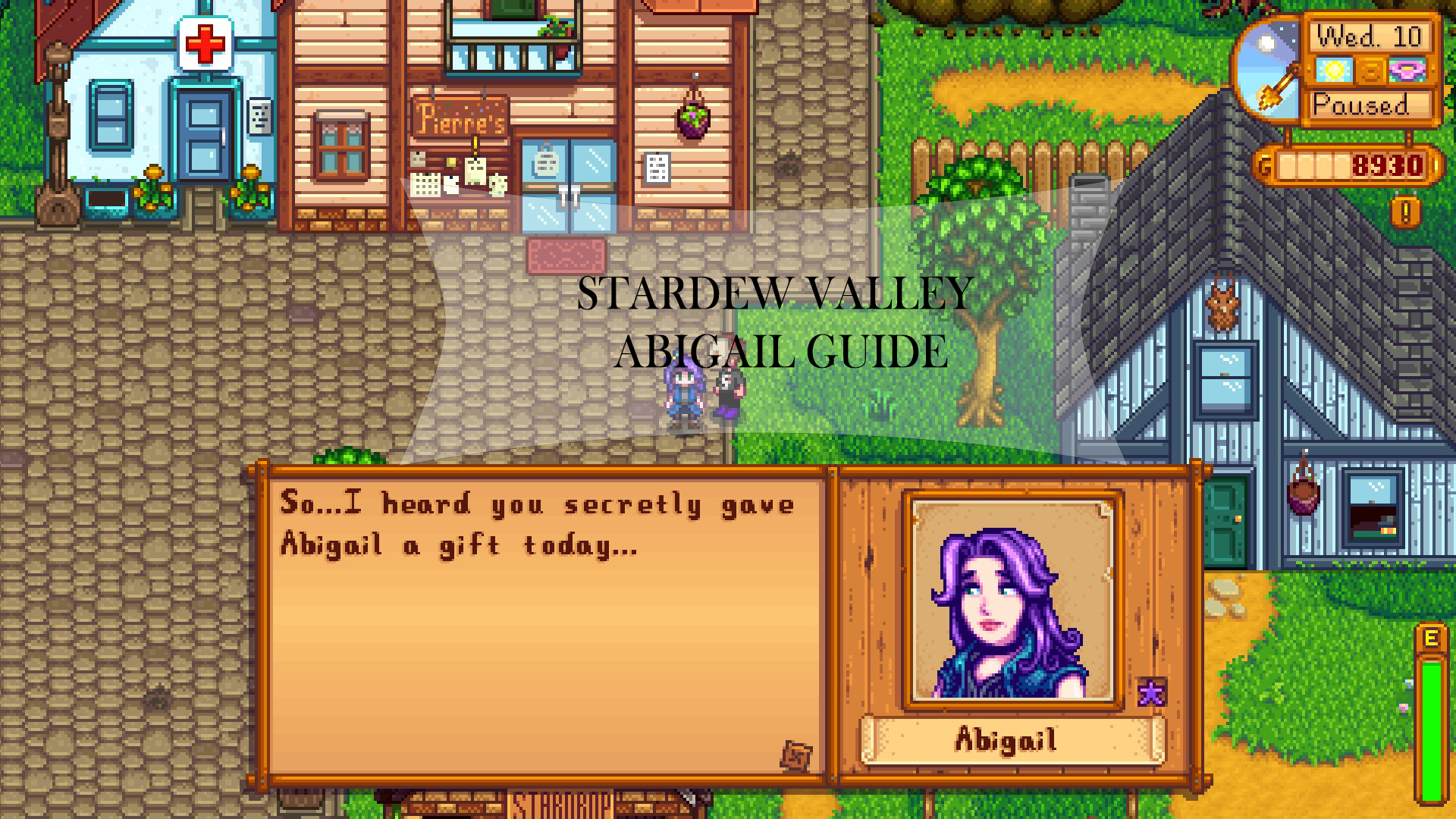 Being alone sucks, and your Stardew Valley life is no exception. If you want to marry someone, you can choose from among twelve characters. Stardew Valley marriage gives you just the same advantages as any marriage in general. You will have a wife who helps you with your everyday routine, such as flowering plants or feeding animals. Thus, this decision will surely simplify your life and help you make more profit from your farm. In this wiki guide, we'll consider Abigail, who is a nice girl to marry. You'll also learn a few tips to get on a short path to her heart!
Who is Abigail?
She's a kind of non-standard girl, and you must know it if you want to make her like you. She lives with her parents. Her father, Pierre, owns a store. Caroline, her mother, and Abigail sometimes fight, because Caroline doesn't like her purple hair and fascination with occultism. She's a kind of a gothic girl, so you can meet her on the graveyard or walking alone. Most often she is standing on the bridge east of her father's store. However, when it rains, she often changes her behavior, because sometimes she wants to catch a frog or so. To increase your chances to meet her, we wrote down her schedule.
Abigail's Schedule
It's easy to find certain patterns in her movements, thus we can distinguish some favorite places. In spring she spends most time at the bridge which is near JojaMart. Once a week she also visits Graveyard, The Stardrop Saloon and the forest near Wizard's Tower (Wednesday, Friday and Sunday respectively).
In summer she often visits Train Platform. You can also find her standing near The Mountain lake. Every Wednesday she visits Mona's grave on Graveyard and on Sunday she stands staring at the Wizards Tower.
During Fall, Abigail spends most time on The Beach and Bus Stop. She also visits Museum, Graveyard (Wednesday, as usual), The Stardrop Saloon (Friday is the best day for it) and, of course, Cindersap Forest, where the tower of Wizard is.



In winter this girl is mostly at Carpenter's Shop, where she stands beside the counter. On Wednesday she takes a walk to Mona's grave and Friday and Sunday are for the Saloon and forest, respectively.
Don't forget that such locations may change when it rains or on certain days of every season. For example, when it rains, she may spend the whole day at Pierre's store or go to the Saloon.
To make Abigail like you, you must give her gifts, so we collected some tips for you.
Stardew Valley Gift Guide: Abigail Edition
If you want to impress her, it's worth giving her two gifts every week, and an extra one on her birthday. Birthday gifts have increased effect (8 times more effect) and give you a chance to obtain a special dialogue. Don't forget that her birthday is Fall 13!
Every gift may cause a certain reaction. Some gifts may make her happy; some will please her, but not much though. Some gifts will play a bad joke with you or even make her hate you. Check out this list of gifts, so you could choose the right one and not fail.
Most of all, Abigail loves Amethyst, Chocolate Cake, Blackberry Cobbler, Pufferfish, Spicy Eel and Pumpkin. Give her one of these items and she will say that you're the best! If you want to add some diversity, still googling "what does Abigail like", then you can also find some universal gifts, which everyone loves. It's worth searching for Prismatic Shard and Rabbit's Foot. As for Abigail, she also likes Quartz. It's not the Amethyst, but it's still not bad though.
There are also some presents that Abigail is completely neutral to. These are Milk, Common Mushroom, Chanterelle, Dandelion, Daffodil, Morel, Leek, Hazelnut, Winter Root, Snow Yam and Purple Mushroom.
We suggest you to not give Abigale Wild Horseradish or Sugar. She also doesn't like Eggs, most vegetables and fruits, except Fruit Tree Fruit. Never give her Clay or Holly, it will drive her mad!
However, it's not enough to just give her gifts; you also need to communicate with her to get to know each other.
Stardew Valley Romance Options

You already know where to find Abigail; now let's figure out which actions will bring you most sympathy. Every your action listed below may give your relations some points, indicated as heart events.
To get two hearts, you can visit the store when she's at home. She's usually sitting in her room playing video games, so she might need your help with some difficult level.
On a rainy day, you can go to the mountain and find Abigail playing the flute. It's a four-heart event. Just tell her that you're enjoying the weather, and you'll get +50 friendship!
To get six hearts, you must visit Pelican Town. Start walking from the bus stop, forest or from the saloon. Abigail will be standing there in the graveyard and ask you one of her favorite questions, which is "have you ever used a sword?" Tell her that you're really in love with swords.
An eight-heart event starts with a letter from Abigail, where she invites you to the store. She'll show you her spirit board, and spirits will say that you're more than just a friend for her…
Finally, meeting her at the mines is a ten-heart event. She'll be scared of bats, saying that she may be not as tough as she thought before. Tell her that everybody is afraid of something and so on. If everything is ok, she will kiss you and tell you about her feelings.
When it comes to marriage, Stardew Valley offers you a lot of advantages. After wedding, Abigail will move to you and help you with all your everyday tasks. She's also good at cooking!