Stardew Valley Birthday Guide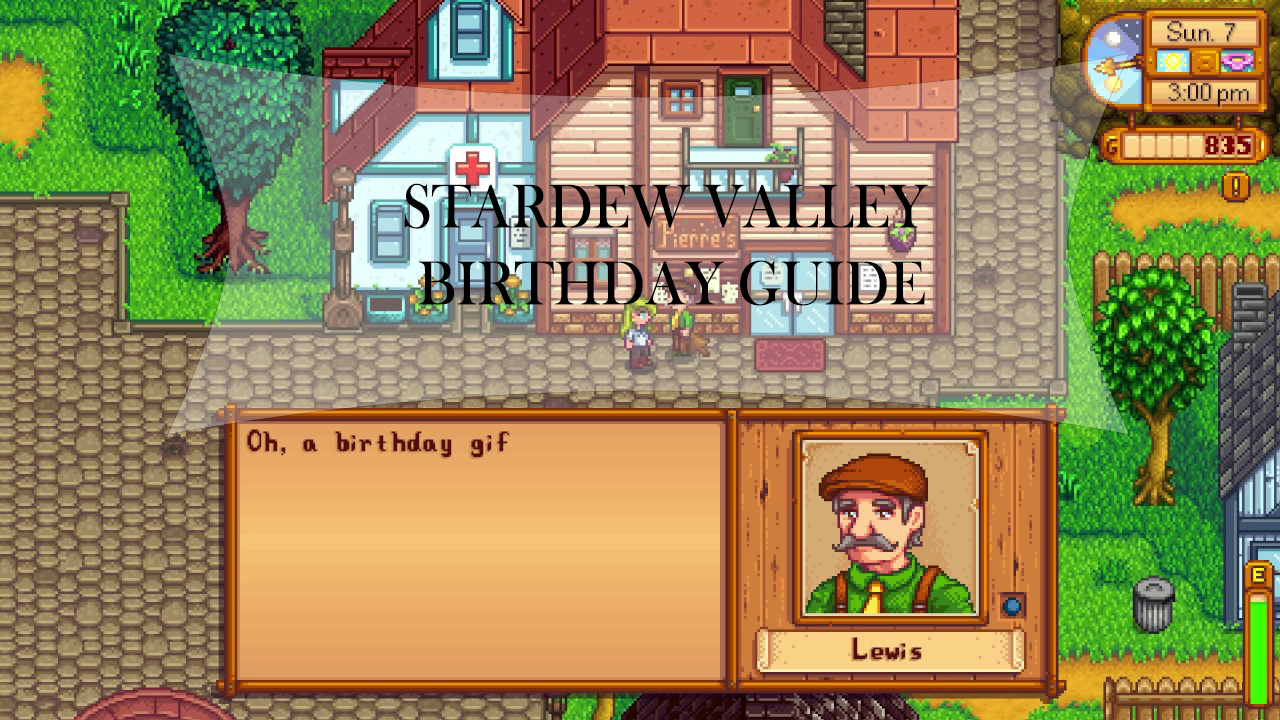 In Stardew Valley, everybody has a birthday. Well, except you. If you want to celebrate your birthday and get gifts from friends, you need to install a special mod. Everyone else will be happy to receive a birthday gift, which is a nice advantage for everybody who wants to build a friendship, or even more, to marry someone.



Playing Stardew Valley game, you can give someone two gifts per week. It will make this character like you, in case you choose a right gift, of course. However, even if you've already given two gifts this week, but today is somebody's birthday, you can make another surprise and increase your friendship even more. You just need to know items that this character doesn't like, because otherwise your initiative will play a bad joke with you. We collected some useful advice, so you could know everyone's birthday and choose a perfect present!
Stardew Valley Birthday Calendar
Let's take a look at every particular season. Four seasons, each one is one month long – this is your whole year cycle in Stardew Valley.
Spring: Kent's birthday is 4th, followed by Lewis (7th), Vincent (10th), Haley (14th), Pam (18th), Shane (20th), Pierre (26th) and the next day is Emily's birthday.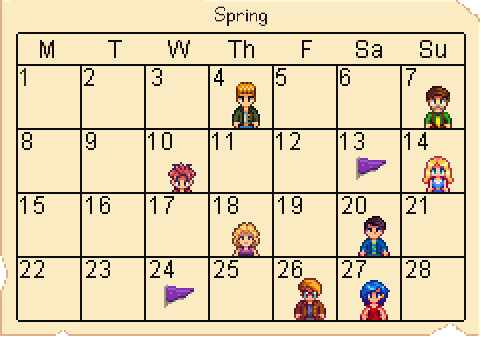 Summer birthday season starts with Jas (4th), followed by Gus (8th), Maru (10th), Alex (13th), Sam (17th), Demetrius (19th), Dwarf (22nd) and Willy (24th).
Fall: Penny's birthday is 2nd, next are Elliott (5th), Jodi (11th), Abigail (13th), Sandy (15th), Marine (18th), Robin (21st) and George (24th).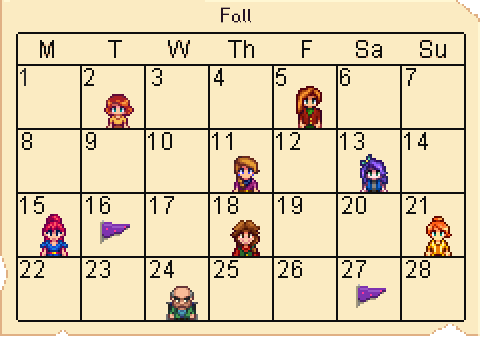 In winter, prepare your gifts for Krobus (1st), Linus (3rd), Caroline (7th), Sebastian (10th), Harvey (14th), Wizard (17th), Evelyn (20th), Leah (23rd) and Clint (26th).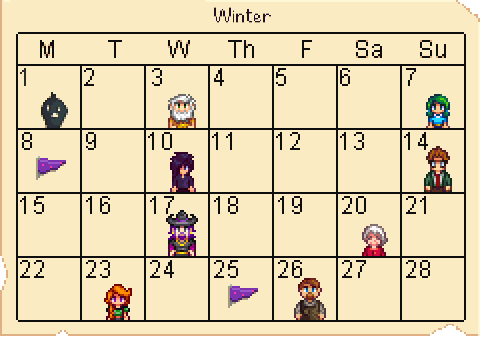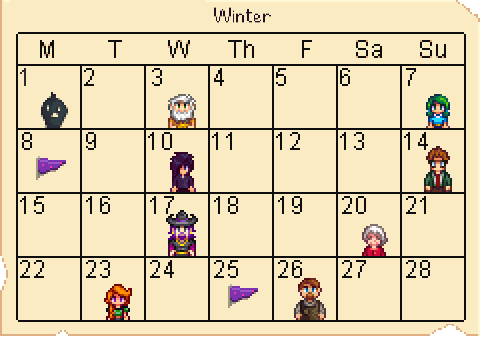 Now you know all the Stardew Valley birthdays, so it will be easy to catch the right moment for your gift. However, what your gift should be, exactly? Let's talk about it and about gifts as a whole.
Stardew Valley: Best Gifts
As we mentioned above, you can give each villager up to two gifts per week. If you've already given somebody two gifts, but suddenly his or her birthday comes, you are able to give an extra gift. Then the checkbox of this villager will disappear and you won't be able to give more presents during this week. As for your spouse, you can give him or her a gift every day. However, you still shouldn't forget the birthday, because if you won't give a birthday gift, you'll lose a heart from your friendship scale.



Every villager has its own tastes when it comes to gifts, so we decided to write the quick Stardew Valley gift guide. If somebody really loves your gift a lot, it will give you +80 friendship points. If somebody likes your gift, you get +45 points. If it causes a neutral reaction, you get +20. Don't forget that a wrong gift can lead to bad consequences. Disliked gift gives -20 points, and if somebody hates it, you get -40 friendship points. Such reactions multiply when it's somebody's birthday or Secret Santa event. On birthday, all these reactions multiply by 8 (even bad ones), and if you're somebody's Secret Santa, get ready for five times more (or less) friendship points. It's also worth considering the quality of an item. Silver items increase points by 10%, Gold items – by 25% and Iridium items – by 50%.
Even though everyone has different tastes, it's easy to make a Stardew Valley list of gifts that everyone (probably) likes or dislikes.
Universal loved gifts are Rabbit's Foot and Prismatic Shard. Only Penny doesn't like Rabbit's foot, and never give Haley Prismatic Shard, it will drive her mad.
Most villagers like Cooking items, Artisan Goods, Flowers, Fruit Tree Fruits, Gems, Minerals and Vegetables. Life Elixir and Maple Syrup would also be a good choice.
Among universal neutral gifts, there are Wool, Sweet Gem Berry, Duck Feather, Truffle, Bread, Fried Egg, Clam, Hops, Wheat, Nautilus Shell, Coral and Rainbow Shell. However, some characters may react different to certain gifts. Elliott or Harvey would be really pleased if you give them Duck Feather. Truffle would be a great gift for Leah and Maru. Wool is a perfect present for Emily and Sandy.
Almost nobody likes Bombs, Fertilizer, Building Materials, Fences, Geode Minerals, Seeds, Tackle, Crafted Floors and Paths, Metal Goods, Sprinklers and Fish. There are also some exceptions. For Example, Linus, Harvey and Leah would like Spring Onion. Abigail would really love Pufferfish. Clint is in love with all Metal Bars, and Maru would also be pleased with such a gift. If you want to impress Penny, give her Sandfish. Sebastian would love Obsidian.
We suggest you to never give villagers universal hated gifts, such as Artifacts, Trash, Monster Loot or Bait. A big exception is Dwarf, who would appreciate all the Dwarf stuff, obviously.
Now you know almost everything about birthday gifts, so now it will be easy for you to build a friendship or even impress your loved one!