Stardew Valley Crops
The most valuable thing in Stardew Valley is gold and purpose of almost every action in this game is for getting more of it. Cropping is one of the most efficient and popular gold-earning activities.
Cropping is available all seasons and can be a true gold mine if you do it with a proper care. Remembering some tactics and recommendations is the shortest way to taking the most of the farming.
If you are new to this game, this Stardew Valley crop guide will help you learn how to till soil, maintain, harvest and how to sell crops. Moreover, we included various tips and recommendations, which will help you to take the most of farming and are carefully selected and tested to bring you the highest in-game value.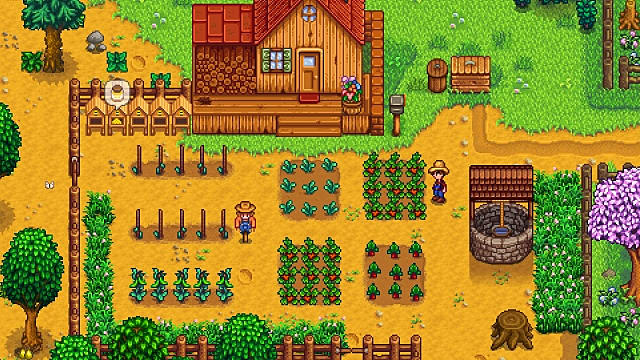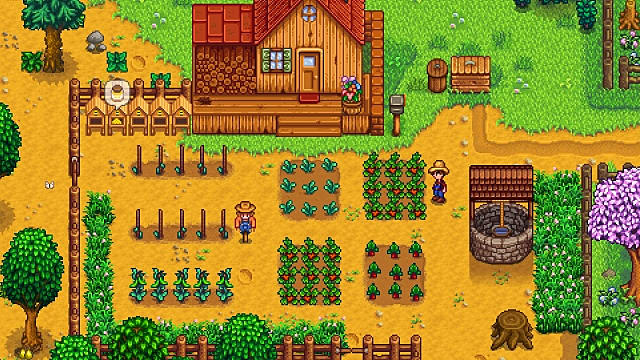 Basic crop guide
All you need is a hoe, a watering can (both of them you get at the beginning of a game) and seeds. You'll have some seeds at the beginning of a game too, but you can always buy more of them at General Store or JoJo mart. (Seeds are cheaper at General Store by the way). Some seeds can only be obtained at unique locations.
You also can make seeds by yourself using Seed Maker.
The cropping itself is very basic and easy to get used to. Use a hoe to till soil. After tilling, choose seeds in your inventory and start sowing. Finally, water your crops using a watering can, because this is vital for crops. Be ready to water them every day in order to keep plants alive.
After you familiarize with these steps, focus on improving your knowledge, because you may be surprised how efficient your farming can be with some thoughtful tactics.
Crops for different seasons
Almost every crop in Stardew Valley is seasonal. For example, summer crops will die as fall come. Only a few types of crops are able to grow in more than one season straight. This is a list of all crops and their growing season.
Summer crops

Can be planted from the first day of summer and will die as soon as the first of fall comes.
Blueberry,
Hops,
Hot Pepper,
Melon,
Poppy,
Radish,
Red Cabbage,
Starfruit,
Summer Spangle,
Fall crops

Can be planted from the first day of fall and will not die until the first of winter.
Amaranth,
Artichoke,
Beet,
Bok Choy,
Cranberries,
Eggplant,
Fairy Rose,
Grape,
Pumpkin,
Spring crops
Can be planted from the first day of spring and will not die until the first of summer.
Blue Jazz,
Cauliflower,
Coffee Bean,
Garlic,
Green Bean,
Kale,
Parship,
Potato,
Rhubarb,
Strawberry,
Winter crops


Winter crops are the only crops that can grow in winter are from Winter Seeds, which can be crafted or bought from Travelling Cart.
Crocus,
Crystal Fruit,
Snow Yam,
Winter Root.
Multi-seasonal crops
These crops can grow during two seasons straight.
Sunflower (can grow during summer or fall),
Wheat (can grow during summer or fall),
Corn (can grow during summer or fall).
Special crops
Sweet Gem Berry (Grows in fall),
Ancient Fruit (Grows in spring, summer or fall).
Best and most profitable crops
Choosing the best crops is one of the most important steps in farming. The pure profit in Stardew Valley is what left from selling crops with seed expenses included. Take a look at different crop prices and recommendations for each season below.
Best summer crops
Blueberries – the most optional choice in summer. Blueberry seeds only cost 80g, these can be bought at the General Store and blueberries will bring you a profit of about 20 gold per day.
Red Cabbages – another great choice for summer. Red Cabbage seeds cost 100g and can be bought at the General Store. This crop can be used in many different ways and selling it will bring you a profit of about 18 gold per day.
Starfruits – the most generous summer crop with a profit of about 27 gold per day. Although this number is quite impressive, starfruit seeds are quite expensive with a price of 400g per each seed. Moreover, these seeds are only sold at Oasis, which is located in The Desert.
Best fall crops
Cranberries – most profitable crops in fall. Its seeds are quite expensive: 240g each at General Store, but you will earn about 19g per day by selling harvested cranberries.
Grapes – second most profitable crop in fall. Grapes are great for starting out as its seeds cost only 60g a piece. Although seed price is really low, a daily profit may be about 17 gold!
Pumpkins – these big crunchy crops may give you a profit of about 17 gold per day, and, moreover, they can be used in many ways, such as Pumpkin soup, Pie, decorations and more.
Best spring crops
Cauliflower – as the spring is not very generous, this crop is the most optimal choice during the spring. Seeds cost only 80g and day profit is about 8g.
Rhubarb – seeds of this crop can only be bought at Oasis for 100g. Rhubarbs will bring you a profit worth slightly more than 9g per day.
Strawberry – very profitable, but requires some planning for great results. Strawberry seeds can only be bought at the Egg Festival, which takes place on the 13th of every spring. If you plant these seeds right after the festival ends, the profit will be only about 12g per day. Keep strawberry seeds for the next year, plant them on the 1st of spring and your profit will jump to generous 21g per day!
Giant crops
Cauliflower, Melon and Pumpkin has a small chance to become a "giant crop". Crops must be planted in an area with a size of at least 3×3 to enable that chance.
A giant crop yields 15-21 items instead of 9. So the giant crop prices would also be a few times bigger! (Requires axe to harvest).
Tips for maintaining crops
Watering crops is the only maintenance that is required for crops to grow. But there are some points to focus on in order to make your farm more productive:
Always plant your seeds in the 1st day of the season – you are wasting time if you are planting your seeds later than the 1st day of each season. Every 1st day of each season should be planting day – without that strict view, you will never have the best and most profitable crops!
Use Scarecrows – your crops can be eaten by crows very unexpectedly. To avoid that, use scarecrows in your fields. (Only crops that cannot be eaten by crows are the ones, which have grown from winter seeds).
Use Sprinklers – you do not need to worry about watering crops if you have properly set up sprinklers.
Fertilize ground – 6 different types of fertilizers are available in Stardew valley. You can either buy or craft them. See each fertilizer advantages in the picture below (Important! use fertilizers only before or after planting!):
Know your farming skill – every farming skill level brings new features or abilities to the game. Farming levels can be gained by, of course, farming: harvesting crops, petting and milking animals, shearing sheep and picking up animal products.
Construct a well – if you cannot or do not like using sprinklers, a well next to your field can be a life-savior. With a help of it, you would not need to go back and forward to the nearest water source for filling up your watering can again.
Don't sell all crops – crops can be used in cooking or crafting recipes, so keep at least some of it for your future plans.
How to sell crops?
Selling crops is simple and can be done in two different ways:
Throw crops that you want to sell in the shipping box near to your house;
Take crops to the General Store and sell them to Pierre.
The first one is the most popular and easiest way to sell your crops. The mayor will collect them from the shipping box (see the picture below) during night and you will have your money by the morning.
The second way will give you money immediately. This way is great if you need to spend your earned money in the same day.