Stardew Valley: Ancient Seed VS Rare Seed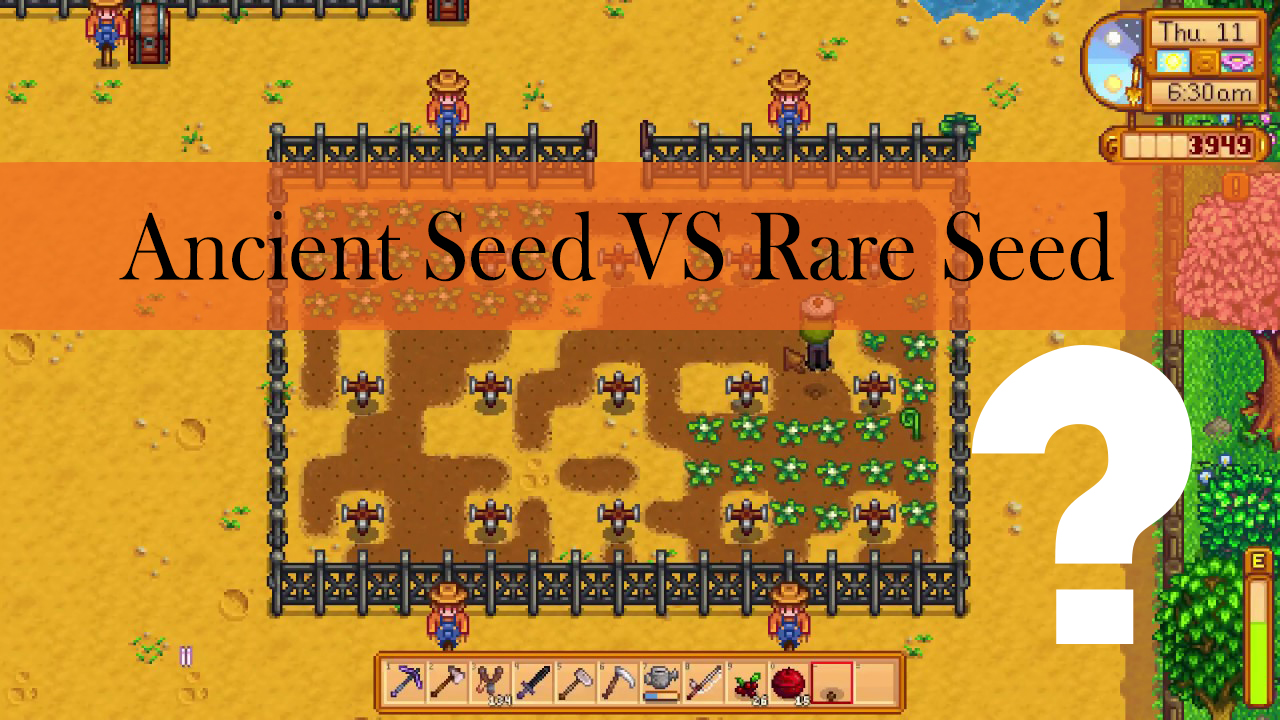 Many players who have just discovered such a useful thing as a greenhouse wonder whether they should plant Ancient Seeds or Rare Seeds. There are many opinions on this issue, so we analyzed most common feedbacks and decided to provide you with basic facts on both these types of seeds, so you could choose yourself. First of all, let's talk about Ancient Seed, and what advantages it gives to a player.



Ancient Seeds


Ancient Seeds are a type of seed that grows into a specific fruit plant. It yields Ancient Fruit, which is a very interesting thing itself, and we will talk about it further. You have a 1.26% chance to buy such a seed at the Travelling Cart. You can also take an Ancient Fruit and put it in the Seed Maker. Moreover, every time you use the Seed Maker with any other type of crop, you have a small chance to get a couple Ancient Seeds instead.
You can find an Ancient Seed Artifact if you dig up the Artifact Spot in the Mountains, the Quarry, or Cindersap Forest. You can also get it from Fishing Treasure Chests. Quite rarely (with a probability of 0.5%) it may drop from Mutant grubs, Grubs, Bugs, and Mutant Flies.
Donate an Ancient Seed Artifact to the Museum, and Gunter will reward you with a pack of Ancient Seeds. He will also give you a recipe which allows you to craft such seeds from the Ancient Seed Artifact.
Once planted, Ancient Seed produces a plant that grows to a new stage every seven days, except the fifth stage which takes only five days. Harvest takes 28 days in total, and it gives you fruits every week. Ancient Fruit of the lowest quality can be sold for 550 gold, and fruits of the highest quality cost 825 gold.



Rare Seeds

Now let's take a look at Rare Seeds. This type of seeds grows into a plant that yields a Sweet Gem Berry. You can buy Rare Seeds at the Travelling Cart for 1,000 gold. They are available only during Spring and Summer. You also always have a 1.26% chance to buy these seeds from the merchant for 600-1,000 gold during any season of the year.
Even though a description says that Rare Seeds take the entire season to grow, in fact, this plant will take 24 days. You can plant this seed on Fall 7, use Deluxe Speed Pro or Speed-Gro, and then it will harvest even before winter.
Once planted, this seed grows to the second stage during 6 days, and every next stage will take the same time. Harvest takes 24 days in total. You'll get berries which cost from 3,000 to 4,500 gold, depending on the quality.
So, what to choose, Ancient Seeds or Rare Seeds? The answer to such a question depends on what are you going to do with fruits. Ancient Fruit can be used with a seed machine, so you'll get more seeds. This plant will give you fruits every seven days, and you won't have to replant it, which is an advantage over Rare Seeds.
On the other hand, Sweet Gem Berry is much more expensive than Ancient Fruit, which is the good news for those who want to sell goods. You won't be able to craft anything from these berries, anyway. However, don't forget that this plant must be replanted every time, so you'll surely need to keep some fruits for yourself to use them in the future.
Generally, it's only your choice, so you can try both types of seeds and see which one turns out to be more profitable for you.