Stardew Valley: Sturgeon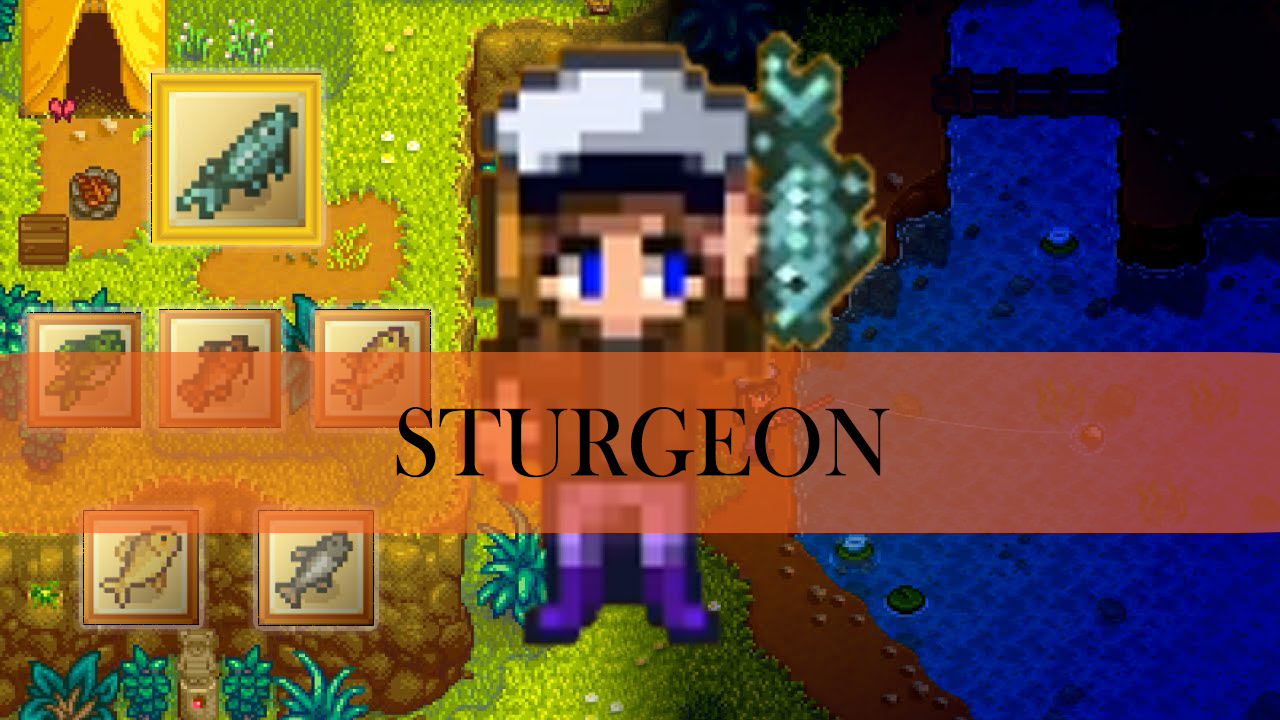 Just in case you haven't noticed it yet – Stardew Valley has much more kinds of activities than just watering your crops and breeding animals on the Farm. There are many kinds of fun, and you have a big range of activities to choose something that you will really like. You can develop such skills as foraging, fighting, mining, or you can fish and increase your fishing skills to catch more and earn more selling your fish. Fishing can be considered a mini-game inside the Stardew Valley game, because the process of fishing is quite sophisticated. We will consider fishing guide – here.
You can fish near the ocean, rivers, or lakes. There are many different kinds of fish. Some of them are easy to catch, and some are quite difficult, which may require high levels of the fishing skill. Each species of fish can be caught during particular seasons, or only when it rains. There are many places where you can fish, but the probability of success varies. In some places, you'll more likely get some junk, which may turn out to be useful though. Some garbage can be sold for small amounts of gold. If you mastered the 4th level of Fishing and you have a recycling machine, you can turn some junk into useful items.



All about Sturgeon
This fish is different from many other types, since it can be caught only near the Mountain, in Stardew Valley lake. You also won't be able to catch it during any season but winter or summer.
You may need this fish if you're trying to restore the Community Center. To do it, you have to complete several bundles, each of which includes a few different items. Each bundle corresponds to a particular room of the abandoned building, and once you collected all necessary bundles, a room is restored. Fish Tank room requires you to complete six bundles, one of which is a Lake Fishing Bundle. It includes Sturgeon along with Bullhead, Largemouth Bass, and Carp.
Many players have problems with Sturgeon, even those who achieved an 8th or 9th level of fishing. We analyzed feedbacks of various players and concluded that the best way to catch a Sturgeon is using the trap bobber. We also suggest you eating something special before you go fishing, and it's not a joke! Some kinds of food temporarily increase (buff) your fishing skills. For example, try to eat Dish O' the Sea, it may help. Another great way to easy fishing is monitoring the mood of spirits. When spirits are pleased and happy, your slider will move slower, which simplifies your work a lot. Another great advantage that spirits give to you is that you get a higher probability of finding a treasure chest.
Sturgeon can be used to make three things, such as:
Sashimi – you'll receive a recipe for it from Linus, in case you have more than three hearts with him; it boosts your health by 33 points, and your energy by 75;
Maki Roll – along with a Sturgeon, you'll need one Rice and one Seaweed; it gives you a 100 points energy boost along with 45 health points; buy a recipe in the Stardrop Saloon, or watch The Queen of Sauce channel on Summer 21 of your first year;
Quality Fertilizer – it makes your soil better, and increases your chances to obtain products of high quality; requires 2 pieces of Sap.



In case you're looking for good Stardew Valley gifts, we suggest you giving Sturgeon only to Willy, who loves it pretty much. Other villagers won't appreciate such a gift.
Sturgeon may be sold for 200-300 gold, depending on its quality. In case you learned Fisher profession, it will cost 250-375 gold. Anglers sell their Sturgeons for 300-450 gold, depending on the quality.