Stardew Valley Community Center Guide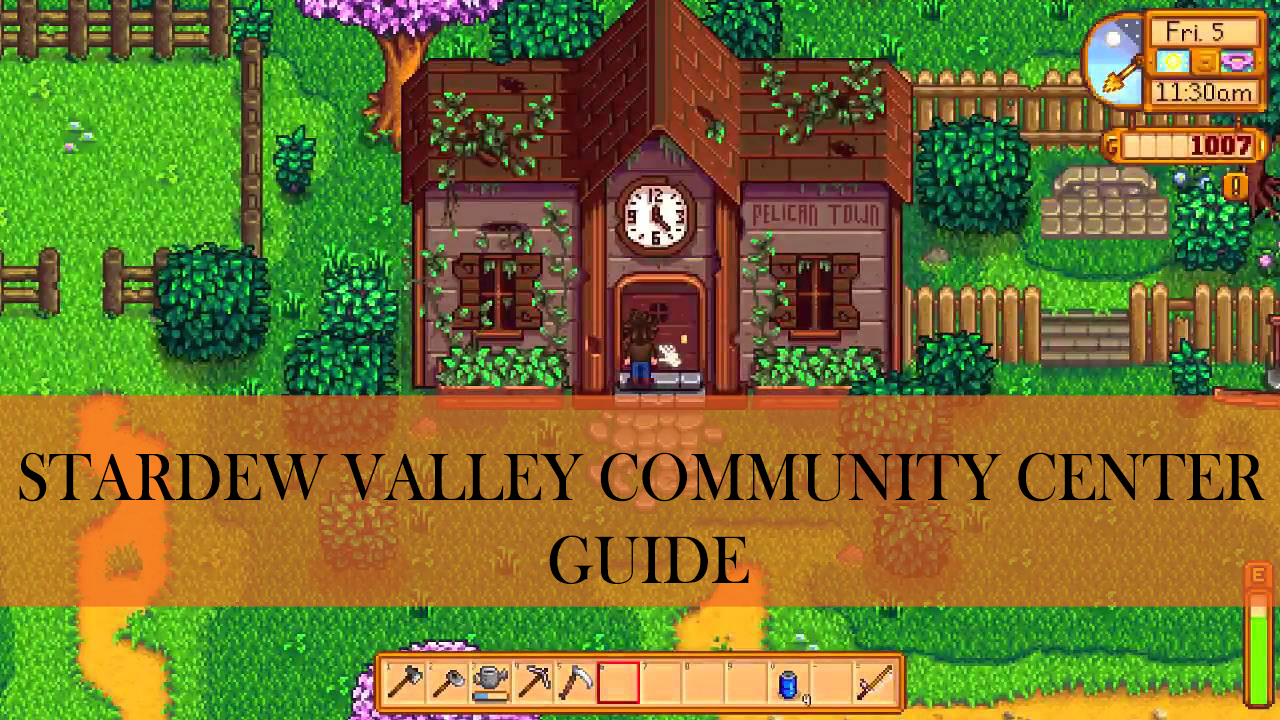 The Community Center is a beautiful building north of Pierre's General Store. Obviously, it serves as center of the Stardew Valley community. At the beginning of the game, this building looks really bad. It's old and abandoned, so you have to work on it, trying to restore it. You can work on this building anytime you like, and you will see how many bonuses it can give to you and the entire community.



The process of restoration implies several steps. Every room in the Center must be restored, and when all the rooms are complete, the Community Center shines like a brand new, and this allows you to unlock a special achievement: "Local Legend". Generally, the whole process is based on donations, which are called Stardew Valley bundles. Each room requires a lot of items to be restored. These are foraging items, artisan goods, crops, and so on. You should give your donations to Junimos, who are spirits of the forest. They look like funny green apples with arms and legs. Every time when a certain bundle is completed, you will be rewarded by Junimos. When a whole room is complete, Junimos offer a special reward that may be useful for all villagers.
There are six rooms in total, and thirty bundles are required to complete the entire Center. You can check how many bundles are completed at the moment, by clicking the Golden Scroll icon. You can find this icon in the Player Menu.
To start the process of restoration, and make donations available, you have to find Mayor Lewis. Starting from Spring 5th, enter Pelican Town from 8:00 AM to 1:00 PM. To trigger a cut scene with Mayor Lewis, you have to start from the bus stop screen. You also have to make sure that it's a sunny day, since the cut scene won't trigger when it rains. Lewis will walk with you to the Community Center. At the beginning, this building looks really weird. There are a lot of Junimos who can suddenly disappear, and there is also a strange placard. It glows in the dark, and it's covered in unknown writings. Try to read it (though you won't be able to do it). A day after, you will receive a letter from the Wizard. He will invite you to his house, and tell you about Junimos. He will also offer you a magic potion. Drink it, and you'll suddenly be able to read all these strange writings in the Community Center. It turns out that Junimos have written lists of items required for restoration. Since this moment, Junimos will take bundles, and the process of restoration will start.
There is also another way to restore the Community Center. You can buy a Joja Mart membership at JojaMart. In this case, this building will become a Joja Warehouse, and all bonuses will be available for purchasing for gold, instead of bundles. Note that Joja Warehouse doesn't make possible achieving the "Friendship" reward.
Once the entire Community Center is restored, you will see the grand re-opening of this building. The grand re-opening may be delayed if it rains, or when a festival takes place. You will also get the Stardew Hero Trophy. If you rebuild the Center with the help of Junimos, JojaMart will stop its business, and since then, the General Store will be open all week. Villagers will start visit this building sometimes, hanging around, and the big clock will start working again, showing in-game time.
An interesting fact about the Community Center is that it has a secret room that doesn't require any bundles. When the entire building is restored, it turns out to be a kitchen. However, Gus doesn't spend much time there. Along with that, there is the Crafts Room. Once it's completed, the bridge east of the Mines will be repaired.
When the Pantry is completed, it also restores the Stardew Valley Greenhouse. The Greenhouse allows you to grow Fruit Trees and Crops even in winter.
There is the Glittering Boulder near the entrance to the Mines. If the Fish Tank is completed, it will be removed. Completing the Boiler Room, you will be able to use Minecarts.
Completing the Bulletin Board, your friendship with any villager (except villagers available to marry) will increase by two hearts. Suddenly villagers will receive packages posted many years ago. All these packages will turn out to be sent from you.
When the Vault is completed, it also repairs the Bus Stop, and makes you able to access the Calico Desert.
We wish you to complete all bundles, and make Stardew Valley game even more interesting!