Stardew Valley: Sam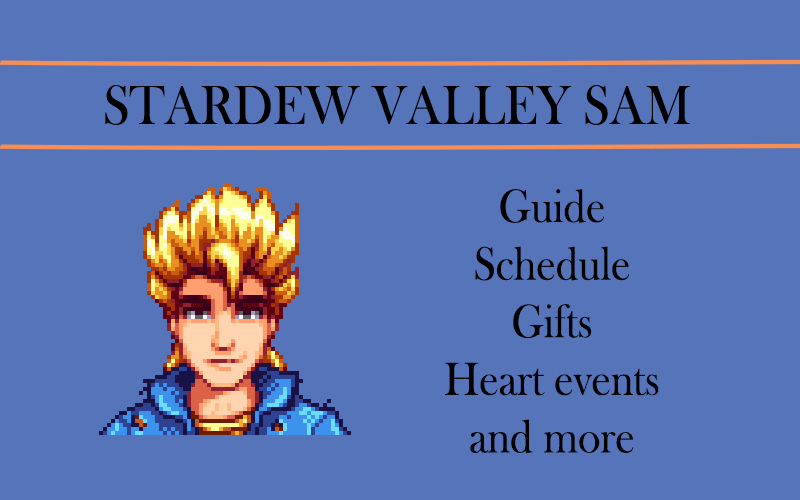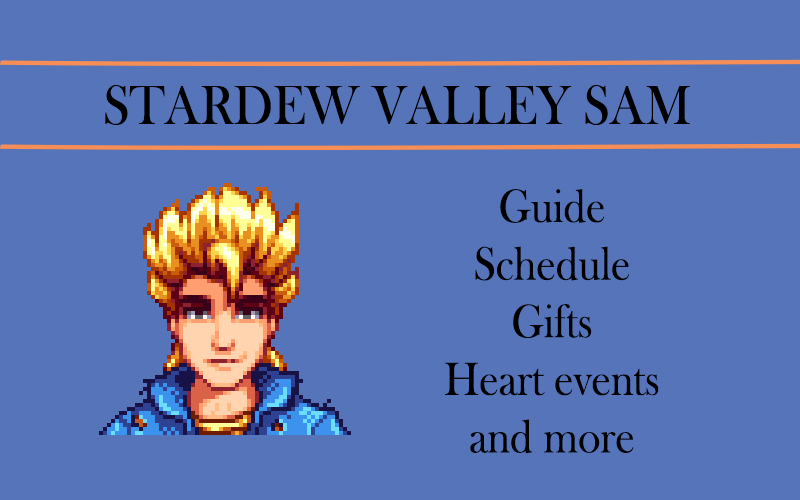 "I can feel the love, can you feel it too?.." If you want to feel love in Stardew Valley game, you can choose from among twelve different characters. Every one of them has its own unique story, wishes, and personality traits. Thus, you have to know somebody to make him or her love you. First of all, you two have to become friends. It's relatively easy, since you just have to give a villager gifts. Give somebody two gifts every week, and this character will certainly become your friend. Well, in case you choose your gifts properly. Some gifts will allow you to increase your friendship, and others will only cause negative effect. However, you don't have to worry, since we have all necessary information on gifts. You also have to see your loved one, and do something together. Thus, we made a schedule, so you could plan your activity depending on favorite places of a particular character.



We keep introducing you bachelors, and now we will talk about Sam. He is a fun guy with a lot of energy. Sam loves music, plays drums and guitar, and he's going to start a rock band with Sebastian. Sam lives in Pelican Town, in the southern part, and works at JojaMart. Let's take a look at his schedule.
Sam's Schedule
Sam likes different kinds of activities. He often plays guitar at home, or tries some skateboard tricks outside. Sometimes he plays pool in the Stardrop Saloon, walks on the beach, or in the woods. His behavior may vary depending on the season or weather.
In spring, on Monday and Wednesday, Sam works in JojaMart from 12:50 PM to 4:00 PM. On Tuesday, you can see him standing by the river near Mayor's Manor. On Thursday, Sam is at home until 1:40 PM, and then walks south of Lewis' house. He's at home at 7:50 PM. On Friday, Sam is at the Stardrop Saloon from 4:00 PM to 9:20 PM. If it rains, he can be near the Museum, at the bridge, or play pocket videogame near Haley and Emily's House.
In Summer, Sam spends most time at home, playing guitar in his room. He also often visits the Beach and meets Vincent by the fire pit. Vincent is his brother. On Monday and Wednesday, he's at JojaMart from 12:50 PM to 4:00 PM.
During fall, Sam usually wakes up at 10:00 AM, and plays his guitar until 1:20 PM. Then he leaves home and walks south of Leah's cottage, to the Forest. On Fall 11th, Sam visits doctor. He's at the Clinic from 11:30 AM to 4:00 PM.
In winter, from 10:00 AM to 1:20 PM, he usually plays guitar at home. Then you can meet him in the Stardrop Saloon.
When the Community Center is restored, on Monday and Wednesday, Sam is at the Museum from 11:00 AM to 4:00 PM.
So now you know where you can find Sam, to start new story of your Stardew Valley relationships. Now let's talk about gifts. Sam may love some items, and hate others, so choose carefully!
Stardew Valley Gift Guide: Sam Edition
If you want to really impress Sam, give him any item from the universal Loves category. He also would appreciate Pizza, Cactus Fruit, Tigerseye, and Maple Bar. Sam likes Joja Cola, Eggs (Void Egg is an exception), and most of items from the Universal Likes category.
Sam will be completely neutral if you give him Milk, Fruits, or any item from the Universal Neutrals category.
We suggest you not to give Sam such items, as Hazelnut, Common Mushroom, Purple Mushroom, Chanterelle, Morel, Daffodil, Snow Yam, Leek, Dandelion, Seaweed, Holly, Winter Root, Quartz, Wild Horseradish, and Salmonberry. These items will be definitely bad for your Stardew Valley romance.
Never give Sam Gold Bar, Coal, Iridium Ore, Duck Mayonnaise, Iridium Bar, Copper Bar, Refined Quartz, Iron Bar, Gold Ore, Pickles, or Mayonnaise.
Stardew Valley Romance Options
Your relations with any villager are measured in hearts. Once you got two hearts with Sam, visit him at his house. Sam will jam with Sebastian and ask you about your favorite music. No matter what you love, he will say that he's been thinking about this genre.
The three-heart event occurs at the beach, from 7 AM to 3 PM, in case it's not raining. This event also won't trigger in winter. You will see Sam with his little brother, and you will talk about his father who's in the army.
The four-heart event is at Sam's house. He will cook for you and drop an egg on the floor. When his mom asks you what happened, say that it's your fault, and get +50 points of friendship.
Once you got six hearts with Sam, enter the town on a sunny day, before 4:00 PM. You will see Sam skating. He will hit Haley and Emily's flower box, and Mayor Lewis will roast him for it. If you want Lewis to apologize, say that there's no other place where Sam could ride.
Another step on the way to your marriage, the eight-heart event, takes place at the Bus Stop, in case you've been present on the two-heart event. Sam and his band will play some music, and then thank you for inspiring them to play in this genre.
Finally, the ten-heart event occurs if you receive a letter from Sam, and then enter the town from 8 PM to 12 PM, on a sunny day. He will invite you to his room, and tell you about his feelings. Suddenly, his mom will enter the room, so you will have a chance to hide in his bed, and then stay there with Sam, kissing.