Stardew Valley: Pierre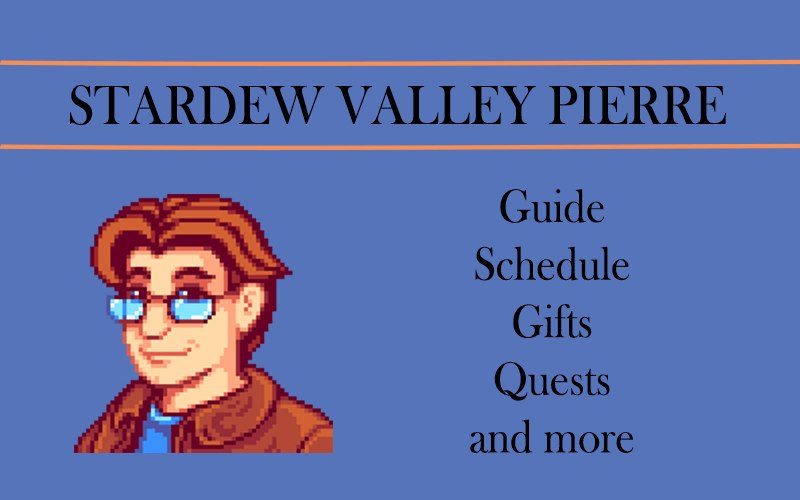 Pierre
Information
Birthday:
 Spring 26
Lives In:
Pelican Town
Address:
Pierre's General Store
Family:
Caroline (Wife)

Abigail (Daughter)

Marriage:
No
Best Gifts:
Fried Calamari
We are always happy to help you develop your Stardew Valley friendship. In this article, we are going to talk about a significant figure in Pelican Town. It's Pierre, the owner of the local store.
Pierre lives in the same building, north of Town Square. He is married to Caroline, and they have a daughter Abigail. The General Store is competing with JojaMart, so Pierre doesn't like Morris.

Schedule
You can find Pierre inside the General Store, he's there every day from 9:00 AM to 5:00 PM. The store is closed on Wednesday. Once you've restored the Community Center, the store will work every day. After work, Pierre usually moves inside his house. On Fridays, you can find him in the Saloon (from 5:00 PM to 11:50 PM). On rainy days, Pierre usually doesn't leave his house.
Stardew Valley Gift Guide: Pierre Edition
If you want to become friends with any villager, you have to give gifts. Choose carefully, because bad gifts will play a bad joke with you. Birthday gifts must be chosen most carefully, because their impact on your friendship is increased eight times. Pierre's birthday is Spring, 26th, so choose a good gift, and we will help you with that.
Pierre loves all gifts universally loved by villagers, and also he would highly appreciate Fried Calamari. He likes Milk and Eggs, as well as Dandelion and Daffodil.
Pierre will react neutrally if you give him items classified as Universal Neutrals, and Fruits.
We suggest not giving Pierre Salmonberry, Common Mushroom, Winter Root, Leek, Hazelnut, Snow Yam, Chanterelle, Holly, Purple Mushroom, Morel, and Wild Horseradish. He also hates Fish, Tortilla, Corn, Parsnip soup, and Garlic.

Friendship
Getting new Friendship points, you also earn Friendship hearts. These hearts allow you to unlock special events. You may get gifts from villagers, enjoy special dialogues, or see special cuts.
Once you've got at least one Friendship point with Pierre, you have a chance to receive a gift from him. A probability of receiving a gift increases as your friendship develops.
The three-heart event of your Stardew Valley relationships with Pierre is a recipe. You will receive it in a letter. With this recipe, you'll be able to cook a Blueberry Tart – a healthy dish that increases your health by 56 points, and your energy by 125 points.
The six-heart event triggers in Pierre's bedroom. You will accidentally find his secret stash, and he will catch you. Tell him that you will keep his little secret, and he won't tell anyone that he's seen you snooping through his things. If you refuse to keep his secret, you'll lose 2 Friendship hearts.
Quests
During your second year in Stardew Valley, on Spring 21st, Pierre will ask you to bring him Sashimi. Do it and you'll be rewarded by 1,000 gold, and a new Friendship heart.
As well as other villagers, Pierre may request some items on the "Help Wanted" board. This board is outside the General Store. We suggest checking this board every time you want to get a quest. Items from this board cost three times more than usual, and also give you a chance to earn 150 Friendship points.