Stardew Valley: Fighter or Scout?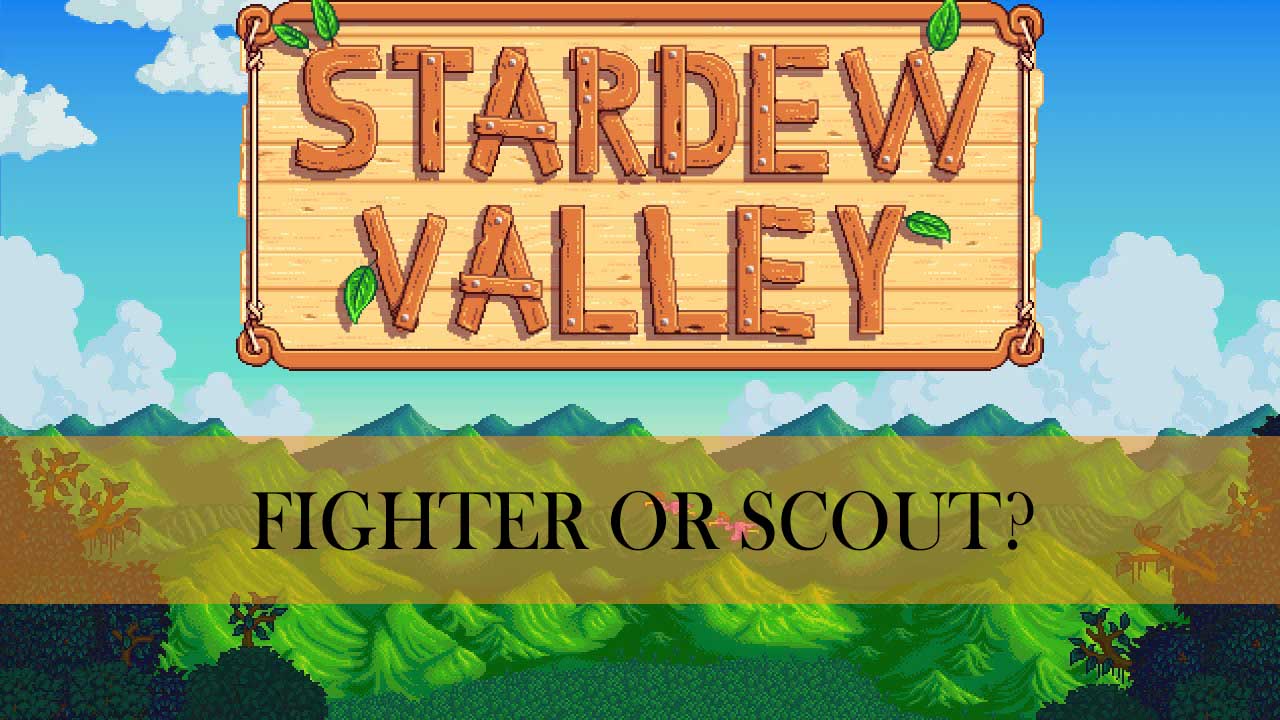 If you're working on your Combat skill, then, on the level 5, you face a dilemma. Which profession you should choose, Fighter or Scout? Well, let's take a closer look at Stardew Valley skills, and evaluate all pros and cons of each profession.
Every time you improve certain skills, you also increase the efficiency of used tools. It also gives you an opportunity to unlock new crafting recipes; some of them are really interesting and unique. However, these recipes won't be available until your next save. On the other hand, you can use them next day.
There are ten levels for every skill, and levels 5 and 10 are of key importance, since you get an opportunity to choose your profession. In turn, each profession chosen on the level 5 unlocks another profession on the level 10. Professions are applied right after you choose them, giving you certain advantages and bonuses; we will talk about it further. You need to have a certain level of experience for every level. For example, the level 5 requires 2150 points of experience, and the level 10 requires 15000 points of experience.
You can temporarily increase some skills by eating specific food. These skills are called buff, and they are indicated as an icon beside the player clock. You can always check your skills by opening the pause menu. Stardew Valley Combat skill depends on how good you are in killing monsters. Every level of this skill increases your health on 5 points. If you can't find any monster on your farm, we suggest you to take a walk into The Mines, or to the Wilderness Farm. Don't forget about the Skull Cavern!



When you're a new villager in Stardew Valley game, the mines are locked. You cannot go there, because Joja Corporation closed them after an accident. Wait five days and you'll get a letter from the Joja Corporation. You'll read about the landslide that blocked the main entrance, and that now the corporation has fixed such a problem. If you haven't chosen the Wilderness Farm, now Combat skill is available for you.
With every new level you get +5 extra points of health and a unique recipe. However, that's where you can see the first difference between the Fighter and the Scout, since the Fighter gets more health points. This profession allows you to get +15 points every time you increase your Combat skill.
At the level 1, you get the recipe for Sturdy Ring. Then, until reaching the level 5, you get Life Elixir, Roots Platter, and Warrior Ring. After that, you face one of the most important questions in Stardew Valley: Fighter or Scout? Each one of these profession has its own advantages and disadvantages. Every Fighter causes 10% more damage with every attack. As mentioned above, it also increases your HP by 15 points. As for the Scout profession, it increases the chance for Critical Strike by 50%.
Until the level 10, you get more recipes, such as Oil of Garlic, Slime Egg-Press, Explosive Ammo, Ring of Yoba, Slime Incubator, and Iridium Band. Finally, at the level 10, you have to choose your new profession. If you're a Fighter, you can choose between Brute and Defender. The first one increases your damage by 15%, the latter one increases your health by 25 points. As for the Scout profession, it offers you a chance to become either Acrobat or Desperado. Acrobats get less cooldown on special moves (it's decreased by half); the Desperado is a king of critical strikes – each Critical Strike will surely kill your enemy dead.
To consider features of the Scout profession in Stardew Valley game, we need to do a little math. Your chances for Critical Strike increase according to a simple formula:
CrStrChance += CrStrChance * 0,5
Note that such chances multiply, not sum. Thus, even having all possible bonuses, your chance for Critical Strike won't be more than 5-10%:
Basic * 1,5 * 1,1 * 1,1 (instead of 50% + 10% + 10%)
We made such calculations for the Scout with two rings, each one of which gives extra 10% chance for Critical Strike. As you see, multiplying the chance doesn't show impressive results, and it surely cannot give you 70% chance of Critical Strike.
Now take a look at the Fighter's damage, and it will become clear that such an advantage looks much more interesting than 5% or even 10% to do Critical Strike. Well, of course, Desperados have a certain advantage, increasing the damage from every Critical Strike by 7. If a regular Critical Strike causes triple damage, the Desperado multiplies the damage 21 times.
Of course, we tested the Desperado too, and we noted that it does Critical Strike only in 2% of the time, which equals 42% of additional damage in total. However, in fact, it's guaranteed that Desperado's Critical Strike will cause more damage than the remaining health of your enemy.
Choose your Stardew Valley professions carefully, read our advice, and enjoy your game!