Stardew Valley: Grandpa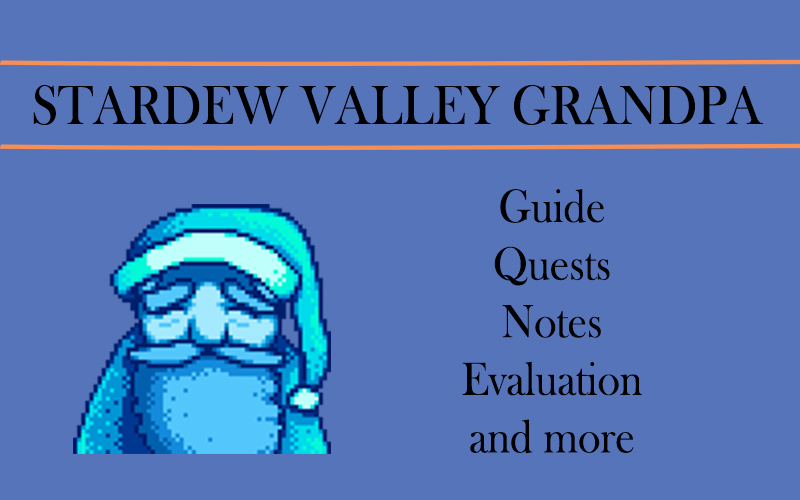 Let us introduce you to your Grandpa. Well, not an actual grandpa, but Grandpa of your Stardew Valley character. He is the very first character of Stardew Valley game that you are introduced to, and he is who owned your farm before. You will receive a Grandpa's letter, where he will tell you that at a certain point in his life, he's lost the understanding of what are the most important things in the world. He decided to learn more about connections between people and nature, so he moved to Stardew Valley.

At the moment when you arrive at the Farm, Grandpa is already "in a better world", but you will find a note on the Grandpa's Shrine, which states that his ghost will return at the beginning of your third year on the farm to estimate your progress.
His evaluation of your success corresponds to the number of candles lit around the Shrine. One candle corresponds to 0-3 points, 2 candles – to 4-7 points, three candles – to 8-11 points, and four candles – to twelve or more points. Generally, the evaluation system is based on 21 points, each of which is given to you for a certain achievement. Points earned may increase depending on your total earnings. For example, 200,000 gold means that you earned 3 points, 300,000 gold – 4, and so on, up to 7 points in case you've earned one million gold.
You get one point for each of the following achievements:
30 levels of Skills in total;
The 10th level in every skill;
Every fish caught;
Every item shipped;
Museum collection completed;
Four hearts with your pet;
Marriage and the full upgrade of the house;
Eight hearts with five characters;
Eight hearts with ten characters;
Rusty Key obtained;
The Community Center restored (plus 2 points for the completion ceremony);
Skull Key obtained.
If you earned twelve or more points, Stardew Valley Grandpa will reward you with the Statue of Perfection. You won't see any notices about it becoming available, so you have to interact with the Grandpa's Shrine in a manual mode to find it.
The Statue of Perfection will provide you with Iridium Ore every day, giving from 2 to 8 pieces.
Note that you can ask for re-evaluation anytime you want, by bringing a Diamond in the Shrine (Stardew Valley v1.05 or higher required).