Stardew Valley: Lewis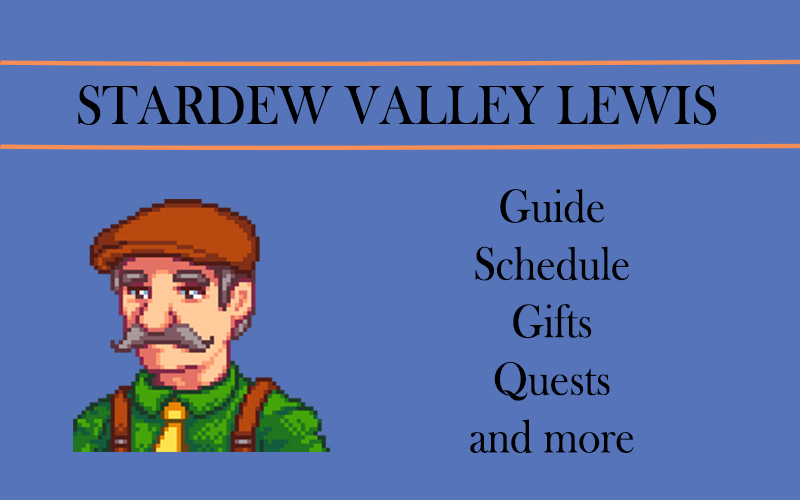 Lewis is a grizzled guy with the mustache in the brown cap. He's the mayor of Pelican Town. When you arrive in Stardew Valley for the first time, he meets you with Robin and explains a couple things about this place. He also sends you a letter with an invitation to a festival which takes place every year. He will write you where you have to come, as well as what you have to take with you.
Nobody dared to challenge Lewis when it comes to elections, for the last twenty years. Thus, he's a good mayor, and he takes care of the town, making sure that everything goes well. He is a friend of probably everyone in the town. If you meet him at The Stardrop Saloon, he will tell you that he remembers your grandfather. Mayor Lewis has never been married, because he decided to devote his whole life to being a mayor. However, he's definitely in extra good relations with Marnie, which is proven by well-known mayor Lewis purple shorts. The fun thing about these shorts is that you can find them in Marnie's bedroom. You will have a chance to find them when you complete one of the quests. Along with mayor's shorts, Stardew Valley gives you another hint on his relations with Marnie – you can find a letter signed "M" in Lewis' bedroom, under a coffee mug. He often can be found on Marnie's ranch, explaining that by saying that he's there to help Marnie with everything she needs.



Quests
As we mentioned above, one of the quests is about Lewis' funny shorts. On Summer 3rd, you'll receive a letter from him. You'll get informed that Lewis offers a 750g reward to a villager who finds them and returns them to Lewis, without telling anyone. Find shorts and you'll get the reward and +1 friendship point, or, in case you're a mean person, you can also take them to the Grange display festival, which takes place during fall. He will call your joke "sick", and pay you 750 Star Tokens for giving them back. If you're a really, really mean person, you can take tokens and keep shorts, making the same trick every year, and losing friendship with Lewis every time.
Another quest in Stardew Valley game activates on Summer 21st. You have to live in Stardew Valley for two years to get this quest triggered. He will ask you to bring him Truffle Oil and reward you with another 750 gold. You will also get a new heart in friendship with Lewis. This quest is called "Mayor's Need".
Sometimes the mayor may ask you to kill some Monsters or find some item. Such items are listed outside the General Store, at the "Help Wanted" board. You'll get various rewards, depending on the number of monsters and their types. For each item, you get three times more than it costs by default, plus another 150 points of friendship.
Stardew Valley Gift Guide: Lewis Edition
Completing quests isn't the only way to become friends with the mayor. You can also follow a classical scheme, by giving him gifts. You are able to give two gifts each villager, every week. If today's somebody's birthday, you can give this character another gift, even if you've already done it twice this week. Such gifts cause an increased effect. Every villager has its particular tastes, so we decided to write a list of best and worst gifts for the mayor Lewis. Bad gifts affect your friendship in a bad way, so choose carefully!
Lewis would really appreciate everything from the Universal Loves category, as well as Vegetable Medley, Autumn's Bounty, Hot Pepper, and Glazed Yams.
He also likes Coconut, Blueberry, Cactus fruit, and all Universal Likes.
Lewis is neutral to such Stardew Valley gifts as Morel, Chanterelle, Dandelion, Common Mushroom, Winter Root, Leek, Snow Yam, Daffodil, Purple Mushroom, and Hazelnut.
Don't give him Wild Horseradish or Salmonberry. He also hates Quartz and Holly, as well as Universal Hates items.
Heart Events
Once you got more than zero friendship points, you have a chance to receive gold from Lewis. Such a chance increases as your friendship gets stronger. He will send you gold from the Stardew Valley Agricultural Fund, where he works in parallel with his primary job.
The three-heart event is a recipe for Spaghetti, which you receive from Lewis in a letter.
The six-heart event triggers when you enter Pelican Town on a sunny day, from 7 PM to 11 PM. It's also necessary to have six hearts with Marnie. You'll be in Lewis' backyard, and see him with Marnie, talking about making their relations public. Lewis will say that he's afraid this will affect his work as the mayor of the town. Both of them will be shocked to see you there, and they will ask you to keep their little secret. We suggest doing so.
The seven-heart event is another recipe from Lewis. This time, it will be Eggplant Parmesan.



Schedule
Spring
Monday
| Time | Location |
| --- | --- |
| 10:00 AM | Wakes up and exits Manor |
| 11:00 AM | Walks into Local Shop (Willy's, Pierre's or Robin's) |
| 4:00 PM | Exits Local Shop |
| 5:00 PM | Enters Manor and stares at stove (presumably cooking) |
| 9:00 PM | Moves from stove to Pelican Town Data Book |
| 10:00 PM | Heads to Bed |
Tuesday
| Time | Location |
| --- | --- |
| 10:00 AM | Wakes up and exits Manor. |
| 10:10 AM | Gardening in front of Manor |
| 11:30 AM | Stops gardening and heads towards Pierre's |
| 12:20 PM | Enters Pierre's |
| 4:00 PM | Leaves Pierre's |
| 4:50 PM | Enters Manor and stares at stove (presumably cooking) |
| 9:00 PM | Moves from stove to Pelican Town Data Book |
| 10:00 PM | Heads to Bed |
Wednesday
| Time | Location |
| --- | --- |
| 10:00 AM | Wakes up and exits Manor. |
| 4:00 PM | Leaves Marnie's house |
| 5:00 PM | Enters Manor for the rest of the day. |
Thursday
| Time | Location |
| --- | --- |
| 12:00 PM | Leaves Manor headed to Community Center |
| 12:30 PM | In front of the tree located next to Harvey's Clinic |
| 6:00 PM | Arrives home and stands in kitchen. |
Friday
| Time | Location |
| --- | --- |
| 10:00 AM | Wakes up and exits Manor |
| 10:10 AM | Gardening in front of Manor |
| 11:40 AM | Stops gardening and heads towards Pierre's |
| 12:30 PM | Stands outside of Clinic in front of tree |
| 2:00 PM | Moves to the fountain |
| 9:30 PM | In The Stardrop Saloon |
| 11:10 PM | Goes back to Manor |
Saturday
| Time | Location |
| --- | --- |
| 8:30 AM | Stands in the kitchen of the Manor |
| 10:00 AM | Leaves the Manor and heads to the Blacksmith |
| 11:00 AM | Arrives at the Blacksmith |
| 1:00 PM | Leaves the Blacksmith and heads to the Museum |
| 1:20 PM | Arrives at the Museum |
| 4:00 PM | Leaves the Museum and heads Home |
| 4:40 PM | Returns to the Manor and heads to bed |
Sunday
| Time | Location |
| --- | --- |
| 11:00 AM | Gardening in front of Manor. |
| 12:30 PM | Standing by the tree to the left of Harvey's Clinic. |
| 4:30 PM | Home |
Summer
Monday
| Time | Location |
| --- | --- |
| 5:30 PM | Inside home and stands in kitchen. |
Tuesday
| Time | Location |
| --- | --- |
| 4:00 PM | Leaves Pierre's store to go to the Manor |
| 4:40 PM | Arrives The Mayor's Manor and stands in kitchen. |
| 10:00 PM | Heads to bed. |
Wednesday
| Time | Location |
| --- | --- |
| 4:00 PM | Leaves Marnie's house |
| 5:00 PM | Enters Manor. |
Thursday
| Time | Location |
| --- | --- |
| 8:30 AM | Standing in kitchen. |
| 10:00 AM | Walks outside to stand in his garden. |
| 11:40 AM | Walks to town square. |
| 12:30 PM | Stands in front of tree beside Harvey's Clinic. |
| 2:00 PM | Stands in front of bulletin board at Pierre's. |
| 4:00 PM | Walks home to his Manor. |
Friday
| Time | Location |
| --- | --- |
| 11:00 AM | Working in his flower bed. |
| 11:40 AM | Leaves the Manor. |
| 12:30 PM | Standing in front of tree beside the Clinic. |
| 4:00 PM | Standing by water fountain. |
| 5:00 PM | Arrives at The Saloon. |
Saturday
| Time | Location |
| --- | --- |
| 10:00 AM | Leaves Manor. |
| 10:50 AM | Collects business tax from Blacksmith. |
| 1:20 PM | Arrives at Museum. |
| 4:50 PM | Returns to Manor (presumably cooking). |
| 9:00 PM | Looks at Pelican Town book in his Manor. |
| 10:00 PM | Goes to sleep. |
Sunday
| Time | Location |
| --- | --- |
| 10:00 AM | Leaves his Manor. |
| 10:10 AM | Gardening in front of his Manor |
| 1:00 PM | Standing on the pier at the The Beach. |
| 4:50 PM | Enters his Manor. |
| 8:00 PM | Leaves The Saloon. |
| 8:10 PM | Arrives at his Manor. |
Fall
Monday
| Time | Location |
| --- | --- |
| 8:30 AM | At home, in the kitchen |
| 10:00 AM | Leaves the Manor; starts walking to the Carpenter's Shop |
| 11:50 AM | Arrives inside the Carpenter's Shop |
| 4:00 PM | Leaves to go home |
| 4:50 PM | At the Manor in the kitchen |
| 9:00 PM | At his desk in the Manor |
| 10:00 PM | Goes to bed |
Tuesday the 9th
| Time | Location |
| --- | --- |
| 8:30 AM | Stands in the dining room of the Manor |
| 10:30 AM | Arrives at Marnie's house |
| 11:00 AM | Leaves Marnie's house |
| 12:30 PM | Enters Clinic. |
| 4:00 PM | Leaves Clinic. |
| 5:30 PM | Arrives at Marnie's house and stares at microwave (presumably cooking) |
| 9:20 PM | Goes to Marnie's bed |
Wednesday
| Time | Location |
| --- | --- |
| 8:30 AM | At the Manor in the kitchen |
| 10:00 AM | Gardening in front of the Manor |
| 11:40 AM | Leaves Manor |
| 12:30 PM | At the tree west of Harvey's Clinic |
| 1:50 PM | Starts walking toward Pierre's General Store |
| 2:00 PM | In front of Pierre's General Store |
| 4:00 PM | Leaves Pierre's and heads home |
| 4:30 PM | In the Manor in the kitchen |
| 8:00 PM | At his desk at home |
| 10:00 PM | Goes to bed |
Thursday
| Time | Location |
| --- | --- |
| 3:00 PM | In front of Pierre's. |
| 4:00 PM | Leaves to go home. |
| 4:40 PM | Arrives at the Manor. |
Friday
| Time | Location |
| --- | --- |
| 12:30 PM | Standing next to Harvey's Clinic |
| 2:30 PM | Standing by water fountain |
| 6:00 PM | In Stardrop Saloon |
| 11:00 PM | Walks to the Manor |
| 11:30 PM | Arrives at the Manor |
Saturday
| Time | Location |
| --- | --- |
| 8:30 AM | At home, in the kitchen |
| 10:00 AM | Gardening in front of Mayor's Manor |
| 11:30 AM | Leaves Manor |
| 12:30 PM | At the tree west of Harvey's Clinic |
| 1:50 PM | Starts walking toward Pierre's General Store |
| 2:00 PM | In front of Pierre's General Store |
| 4:00 PM | Leaves Pierre's and heads to the Manor |
| 4:30 PM | At home, in the kitchen |
| 8:00 PM | At his desk in the Manor |
| 10:00 PM | Goes to bed |
Sunday
| Time | Location |
| --- | --- |
| 9:30 AM | Gardens in front of the Manor. |
| 11:00 AM | Walks from the Manor to river near Leah's cabin. |
| 1:30 PM | Stands by river near Leah's cabin. |
| 4:00 PM | Walks from river to Mayor's Manor. |
| 5:30 PM | Inside the Manor. |
| 10:00 PM | Sleeps in Mayor's Manor bedroom. |
Winter
Monday
| Time | Location |
| --- | --- |
| 4:30 PM | Leaves beach on way to the Manor |
Tuesday
| Time | Location |
| --- | --- |
| 8:30 AM | Wakes up |
| 10:00 AM | Stands in front of Manor |
| 10:40 AM | Moves to front garden |
| 11:40 AM | Starts walking towards Pierre's General Store |
| 12:20 PM | Enters Pierre's General Store |
| 4:00 PM | Begins walking towards Mayor's Manor |
| 4:40 PM | Enters Mayor's Manor |
Wednesday
| Time | Location |
| --- | --- |
| 4:00 PM | Leaves Marnie's Ranch |
| 4:30 PM | Enters Mayor's Manor |
Thursday
| Time | Location |
| --- | --- |
| 10:00 AM | Leaves Mayor's Manor and tends garden |
| 11:30 AM | Moves to tree next to Harvey's Clinic |
| 12:30 PM | Arrives at tree next to Harvey's Clinic |
| 2:00 PM | Moves to in front of Pierre's General Store |
| 4:00 PM | Moves to Mayor's Manor |
| 4:30 PM | Enters Mayor's Manor |
Friday
| Time | Location |
| --- | --- |
| 8:30 AM | Inside Mayor's Manor |
| 10:00 AM | Leaves Mayor's Manor and tends garden |
| 11:30 AM | Moves to tree next to Harvey's Clinic |
| 2:00 PM | Moves to the fountain |
| 2:30 PM | Arrives at the fountain |
| 5:00 PM | Moves to Stardrop Saloon |
| 5:50 PM | Enters Stardrop Saloon |
| 11:00 PM | Leaves Stardrop Saloon and goes to Mayor's Manor |
| 11:20 PM | Enters Mayor's Manor |
Saturday
| Time | Location |
| --- | --- |
| 8:30 AM | Inside Mayor's Manor |
| 10:00 AM | Leaves Mayor's Manor and moves to Blacksmith |
| 10:50 AM | Enters Blacksmith |
| 1:00 PM | Leaves Blacksmith and moves to Museum |
| 4:00 PM | Leaves Museum and returns to Mayor's Manor |
| 4:40 PM | Enters Mayor's Manor |
Sunday
| Time | Location |
| --- | --- |
| All Day | Inside Mayor's Manor |