Stardew Valley: Alex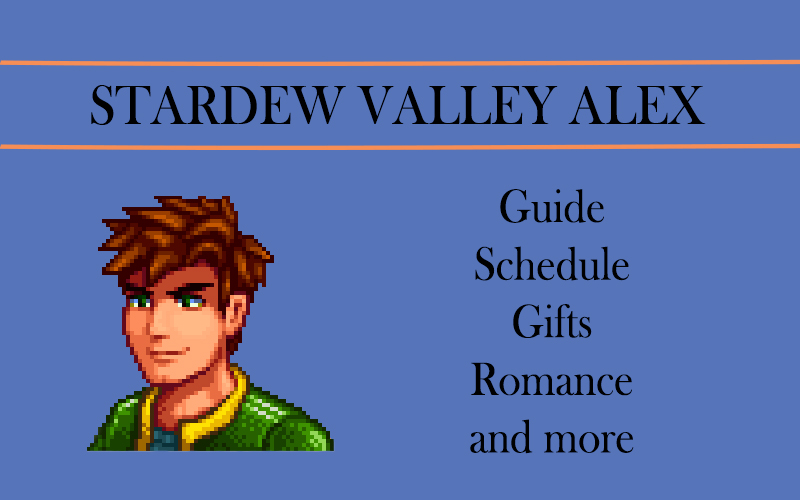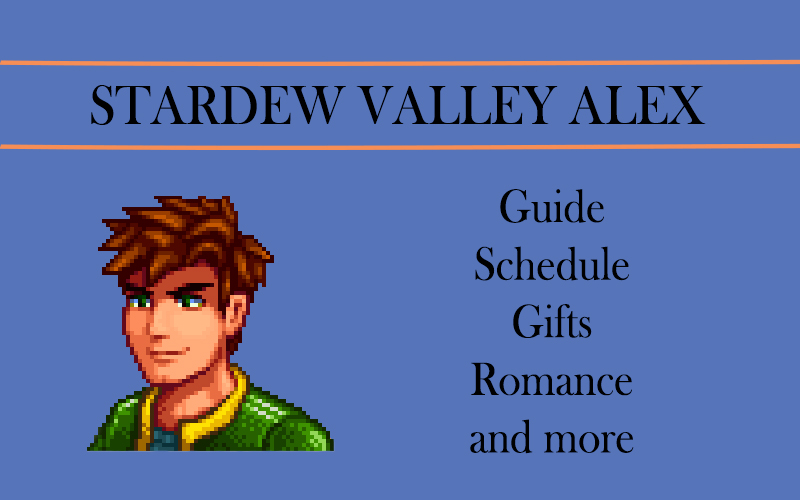 There is a lot of fun in Stardew Valley game, because you can not only take care of your animals and grow trees, but also enjoy fishing, complete interesting quests, kill monsters, and so on. Another feature that makes this game different from many other farm games is that here you can also build your relations with some beautiful girl or boy. When it comes to marriage, Stardew Valley offers you a simple plan: you just have to give someone gifts. We suggest doing it twice a week, and you'll be rewarded by friendship points which in turn help you get new hearts on the scale of your relations. Give somebody a birthday present, and if you choose a right gift, you'll get a reaction increased eight times. The point is that each character has its own tastes, so you have to know what to give. However, we have already studied this issue, so don't worry and just check out our list of best gifts. We also prepared schedules, so you could meet somebody who you like and unlock special scenes about your romance and friendship.
So, we keep introducing you Stardew Valley bachelors, and today we'll talk about Alex – he's an active guy who loves sports and always looks self-confident, even a little cocky, actually. But who knows, maybe it's just a mask that hides his sensitive soul? Maybe he's waiting for somebody to discover his real personality? You have a chance to find out!



Alex's Schedule
There is the same situation with Alex, as with any other villager. His behavior changes depending on a season and weather. In spring, he's usually at home until 8:00 AM, when he leaves his room and heads towards the tree near his house. From 1:20 PM he works out, lifting weights. At 4:20 PM he stands near the dog pen, and at 6:30 PM, he walks back home. If you have less than six hearts with Haley, on Wednesday, he visits Emily and Haley's house at 1:00 PM. He's there until 4:30 PM.
In summer, from 8:50 AM to 12:00 PM, he's on the beach. Then he goes to work, selling ice cream at the stand. At 6:00 PM he's at home, lifting weights. He also goes outside at 7:00, and returns at 8:00. On Wednesday, if you have less than 6 heart points with Haley, he visits Emily and Haley's house at 1:00 PM. At 4:30 PM he leaves their place and goes to the dog pen. When it rains, he's at home almost all day. On Tuesday the 16th, he visits the clinic at 11:00 AM.
During fall, you can meet Alex either at home or near his house. On Wednesday, he can visit Emily and Haley at 1:00 PM.
In winter, he visits the Spa at 9:00 AM. From 11:30 AM to 3:00 AM he's in the gym section, lifting weights. From 5:30 PM, you can find him either in his bedroom or walking near his house.
Stardew Valley Gift Guide: Alex Edition
Alex really loves Salmon Dinner and Complete Breakfast. He would also appreciate all Universal Loves, and all Universal Likes. Alex is neutral to Milk and most Fruits, as well as to Daffodil, Morel, Chanterelle, Leek, Common Mushroom, Purple Mushroom, Winter Root, Dandelion, Leek, Snow Yam, and Hazelnut.
We suggest not giving him Wild Horseradish and Salmonberry. If you don't want to upset Alex, never give him Quartz or Holly.
Romance Options
As we mentioned above, once you got a certain amount of friendship points, you also get new hearts. These hearts unlock special events.
The two-heart event is on the beach, on a sunny day, during summer. You will see him playing with a gridball. He will tell you that he's going to become a professional athlete, so tell him that you believe in him.
The four-heart event triggers in town, from 9 AM to 4 PM. He will talk to his dog, Dusty. He will tell you about his father, who was an alcoholic and abused him. You'll also know that his mother passed away. After that, he'll offer you to check out what tricks Dusty knows.
The five-hearts event triggers at Alex's house. He will tell you that he hasn't read a single book from his bookcase, and he feels worthless because of it. Tell him that we all have our strong and weak sides, and earn 50 friendship points.
The six-heart event takes place at his house too. He will apologize for being rude sometimes, and tell you that he appreciates your support.



Another, eight-heart event on your way to marriage triggers in summer, on the beach. He will tell you that his mother died this day, twelve years ago. He'll also play a song associated with her.
The ten-heart event triggers once you received a letter from Alex, where he invites you to the Saloon, from 7 PM to 10 PM. It's a real romantic date! Gus will play the violin for you. Alex will confess that he was into you from the first time you met, and his feelings keep growing.