Stardew Valley Museum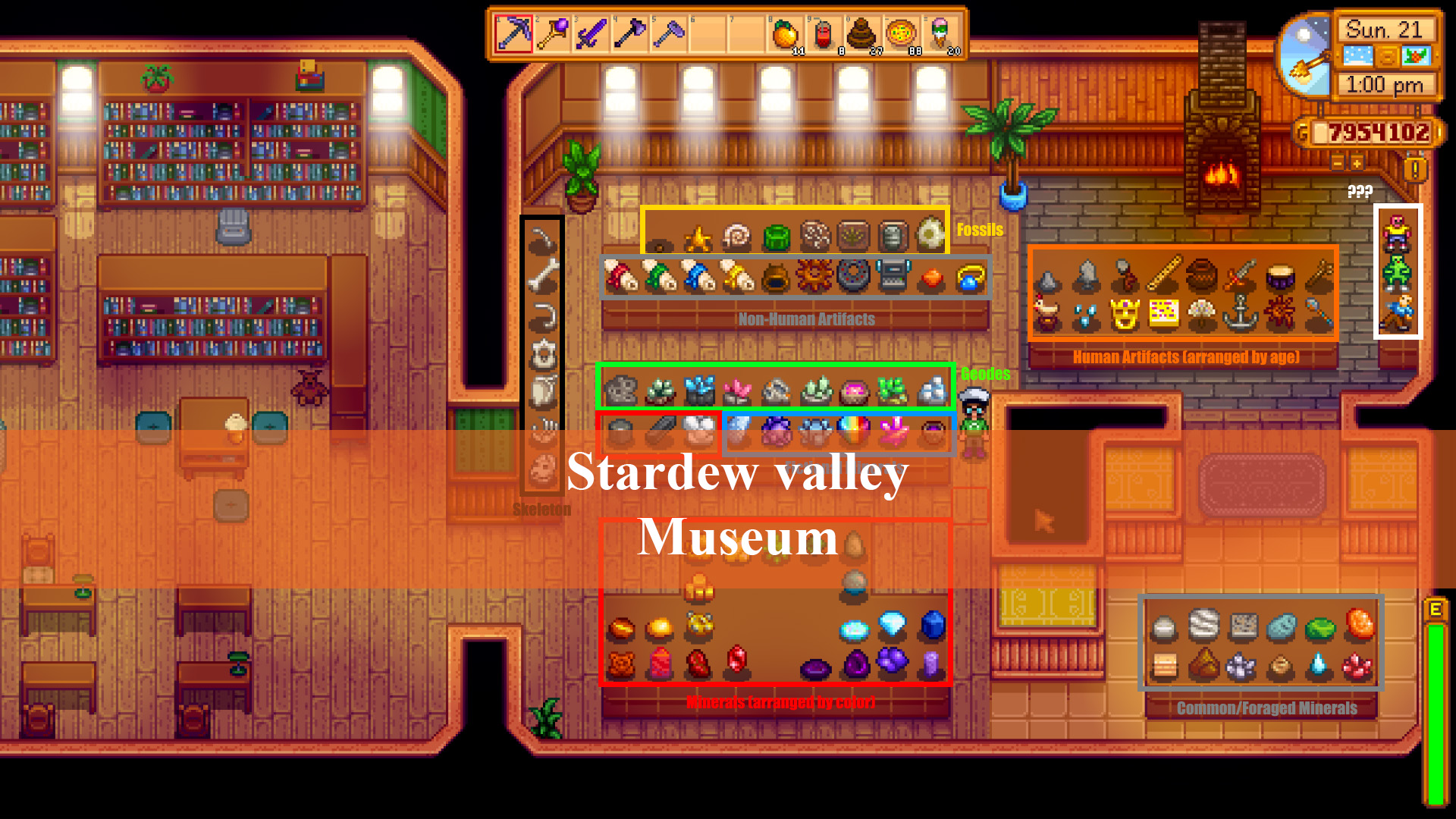 The Museum is located south-east of Pelican Town. It has a library and a gallery where you can see the local collection of interesting items. However, when you arrive in Stardew Valley, the collection is empty, and you will have to fix this. The curator of the Museum, Gunther, will ask you to donate Minerals and Artifacts. Lost Books are another thing you have to donate to museum, these books are missing from the library. To find the Lost Books, you should dig up Artifact Spots with a hoe. You can also find them in treasure chests while enjoying Stardew Valley fishing. The Lost Books add to the shelves in the Museum automatically. If you pick up the Lost Book along with another item, a notification will inform you about obtaining only the item. You can examine donated Lost Books in the Museum — they contain various useful tips on gameplay.
You can only donate a single piece of every item. Your donations might be rearranged until the whole collection is complete. To examine your donated items, just right-click on them. You can unlock two achievements by donating items to the Museum: Treasure Trove (unlocks after donating 40 items), and Complete Collection.
There are 102 empty spaces available for your donations, however, there are only 95 items that you can donate. The remaining spaces on the largest table are used to examine items. To move donated items when they are already on a table, click on them to pick them up. After this, you'll be able to move them as you want. Make sure to enter the donations screen in advance. You won't be able to move items when the whole collection is completed.
Many players try to figure out the right way to rearrange museum items. The truth is that there is no certain rule or principle, and all players have their Museum organized in their own way. For example, you may separate actually existing minerals from made-up minerals, keep bones with artifacts or separately, as well as sort items by color or size. Every time you bring new items from the museum checklist, you can rearrange them how you want, as long as the museum layout allows you to do so.
There is a "museum bug" in Stardew Valley game: when you donate an item, your inventory box shifts down after you select the item. You won't be able to add new items to display spaces if you move the screen around before the inventory box shifts down.
Minerals
You can donate 53 Minerals in total. Every time you have a certain number of minerals donated, you get museum rewards: Standing Geode (11), Crystal Chair (41), Singing Stone (21), Crystalarium (50), and Obsidian Vase (31).
Artifacts
You can also donate 42 Artifacts. Just as in case of Minerals, you'll be also rewarded with: Skeleton Statue (15 Artifacts), Burnt Offering (11 Artifacts, including Dwarf gadget and Rare Disc), Drum Block (3 Artifacts, including Ancient Drum), Flute Block (3 Artifacts, including Bone Flute), Rarecrow #7 (20 Artifacts), Dwarvish Translation Guide (four Dwarf Scrolls), Sloth Skeleton R (Skeletal Tail and Prehistoric Tibia), Sloth Skeleton L (Skeletal Hand, Prehistoric Skull, and Prehistoric Scapula), Ancient Seeds with a recipe (Ancient Seed), and Sloth Skeleton M (Prehistoric Vertebra and Prehistoric Rib).