Stardew Valley Upgrade Tools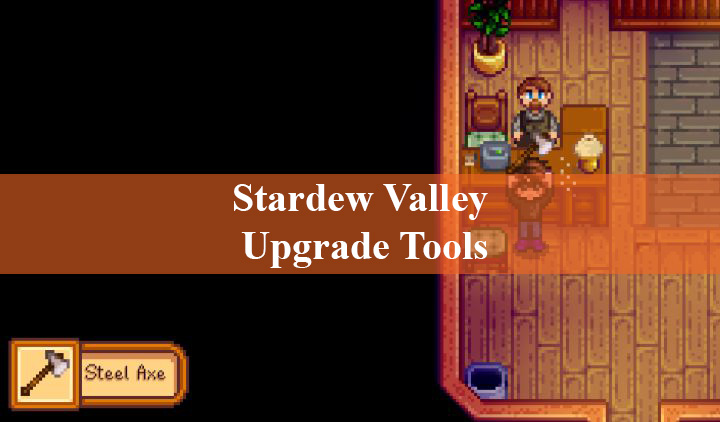 You can upgrade your tools at the Blacksmith. Take your tool to Clint, and he will upgrade it in two days. While Clint is working, other Blacksmith services are not available: you won't be able to buy anything or to ask Clint to crack open your geodes. All tools should be upgraded gradually from the worst material to the best. Thus, you cannot upgrade your tool from Copper quality right to Iridium quality.
Axe, Pickaxe, Can, and Hoe can be upgraded four times. Copper tools require 5 Copper bars and cost 2,000 gold. Steel tools require 5 Iron Bars and cost 5,000 gold. Gold tools require 5 Gold Bars and cost 10,000, while Iridium tools cost 25,000 gold and require 5 Iridium Bars.
There is a big difference between tools made of different materials in the Stardew Valley game. For example, with a Copper Axe, you'll be able to break large stumps and you'll also chop down trees much quicker, doing fewer hits. A Copper Pickaxe will enable you to break big rocks in the Mines, getting 10 stone. A Steel Axe allows for breaking logs on the farm, while a Steel Pickaxe can deal with big rocks. However, if you need to break a meteorite, you should use a Gold Pickaxe. Upgraded Hoes and Cans are also better than the regular ones, as they allow you to till and water several squares of land at once — just click and hold.
Keep in mind that the Blacksmith doesn't work during the Spirit's Eve festival and the Dance of Moonlight Jellies. If you plan to upgrade your tools, we recommend that you bring them to Clint the day before a festival. In this case, upgrades will be available the next day after the festival.