Stardew Valley Amaranth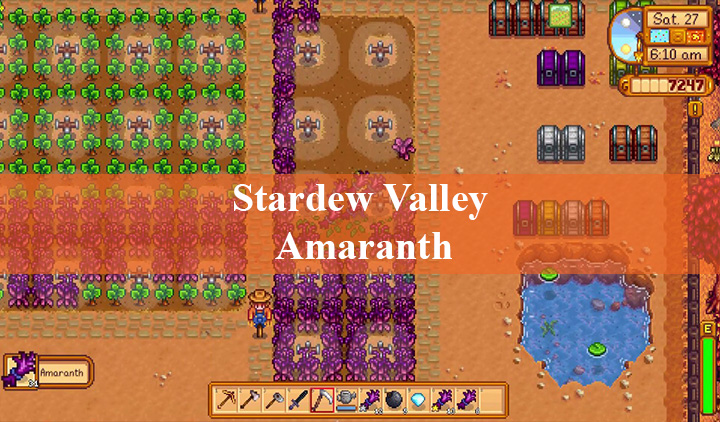 Amaranth is a vegetable crop. If you plant an Amaranth Seed, you will get your Amaranth in seven days. To harvest Amaranth, Stardew Valley requires you to use a Scythe.
Amaranth is one of the three ingredients for Salmon Dinner. Gus will send you a letter with a recipe for this dish after you reach three-heart friendship with him. Marnie will also ask you to bring her an Amaranth for the "Cow's Delight" quest. You will receive a letter from her on Fall, 3rd. If you do what she asks, she will reward you with 500 gold, and you'll also earn a new friendship heart.
Marnie, Demetrius, Willy, Alex, Dwarf, Pierre, Krobus, Harvey, Clint, Emily, Gus, Evelyn, Lewis, George, Jodi, Maru, Linus, Kent, Leah, Pam, Robin, Penny, Wizard, Sandy, Shane, Pierre, and Sebastian will like an Amaranth as a gift. However, don't give it to Haley, Elliott, Abigail, Vincent, Caroline, Jas, or Sam.