Chicken farming in Stardew Valley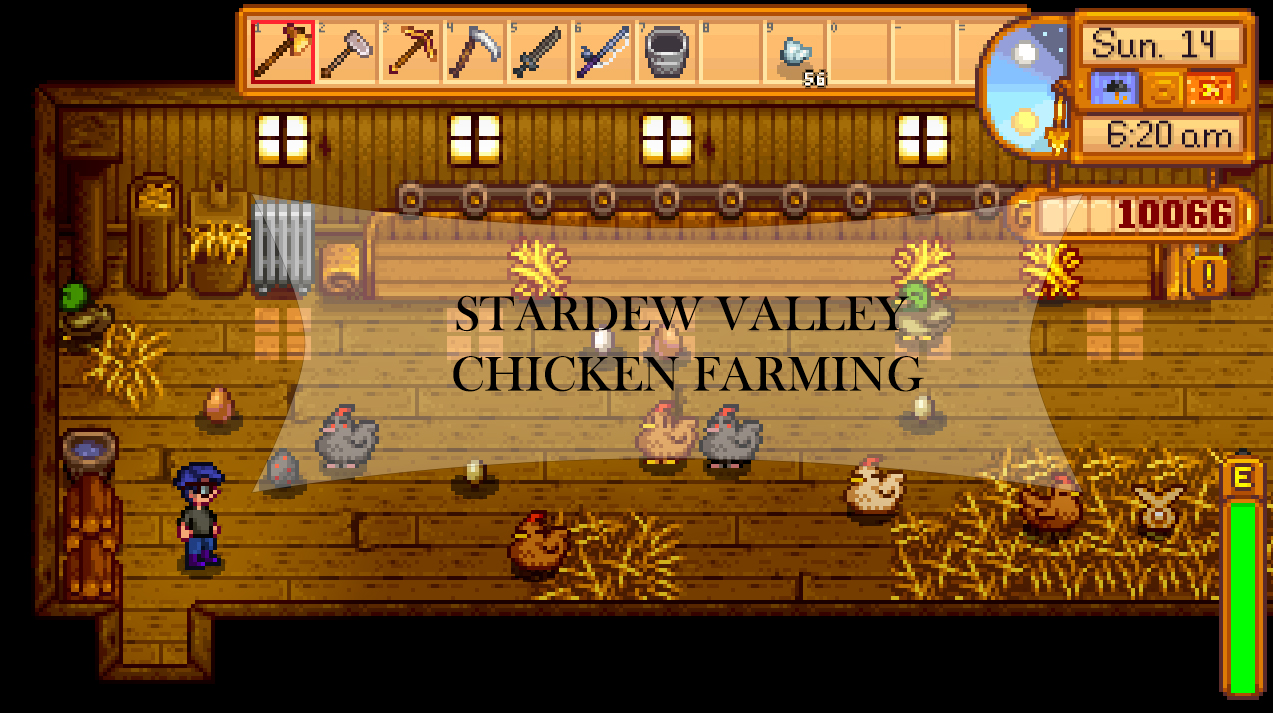 Farming in Stardew Valley can be various – from growing crops to raising pigs. Every farm has its own advantages and disadvantages – it all depends on the type of your farm. The main purpose of these farms is, of course, getting profit. You need a farm, which could be as profitable as possible. Well, you should know, that chicken farm is not the most profitable, but take a look at other advantages.
First of all, chicken farm does not require much attention. You only need to open a chicken coop every morning, so that they could go out of the coop during the day and eat some grass. Chickens lay eggs every day, so another job will be to collect these eggs. Moreover, a daily profit is guaranteed, which is active all year round.
How to start a chicken farm?
New players usually struggle to understand, how to start a chicken farm. That kind of farm is fairly easy to start and manage, once you know all of the basic steps.
The very first step is to have a silo. In fact, if you don't have it – you should not start an animal farm. A silo will provide hay, which must be used to feed your animals during winter or rainy days. It can store up to 240 pieces of hay, which will last as long as you want.
If you built a silo already, all you need then is to make a few small steps. First of them is to clear some space. A chicken coop requires 6×3 cleared space in order to be built. So, save some time and clear the space before going to order a coop. By the way, you can find a chicken coop at the Carpenter's shop and buy it from Robin. He will build it in the next three days after placing an order. A standard coop costs 4000 gold and requires 300 pieces of wood and 100 stone.
The coop can be later upgraded to big and deluxe levels. Big coop provides an incubator, where you can hatch eggs. Deluxe coop adds an autofeed system, so you do not even need to worry about feeding your animals every day.
When you have your coop built, you need to buy a few chickens. Buy them from Marnie's ranch (one chicken costs 800 gold). After that, just feed chickens and collect eggs daily.
Tips for raising chickens
The process of raising chickens is really simple and further tips may be known to you, but if you didn't know them or never used them – you must take notice and remember them, as these are essential for a successful chicken farming.
We already mentioned a silo. But have you thought what could happen if you start a chicken farm without a silo? A silo will store hay, which can be gathered during relevant seasons. But, let's say, during winter, the only source of hay could be a shop, if you do not have a silo. The result is, that the profit could barely cover the expenses for hay.
Another tip is to let your chickens out as often as possible! You should have a habit to open a chicken coop every morning and close it every evening. By doing that, chickens will be able to freely go out and eat grass. Every farm animal in Stardew Valley prefers grass over hay and grass will rise chicken's happiness.
How about eggs?
Well, eggs are not very different from each other. There are white and brown eggs from chickens, ducks eggs from ducks and dinosaur eggs, which can only be laid by a dinosaur. Eggs can be regular or large and the price differs depending on the size too.
Where to use them?
Actually, there are many ways of using them. You can sell them, hatch chickens, use for making a mayonnaise or in a quest, where you have to bring an egg. Of course, there are a few recipes, where you need eggs to complete them:
Blueberry tart;
Chocolate cake;
Cookie;
Crab cakes;
Fried egg;
Omelet;
Pancakes;
Pink cake.
Eggs, like all products, can have a different quality rating. The quality influences the price of an egg and the quality of a product, which requires eggs in its recipe.
Coop is not only for chickens
When it comes to coop, chickens are the first ones, who comes to mind. But a coop can hold other animals too. So, besides chickens, you can raise ducks, rabbits and even dinosaurs here. Each of them gives additional resources: duck produces eggs and feathers, rabbits are for wool and rabbit's feet, dinosaurs are only for their eggs.
After all, you can see that a coop in Stardew Valley is often called a chicken coop, as chickens are the most popular animals for farming in a coop. Many people prefer to avoid animal farms, as the most profitable are crop farms. But Stardew Valley is a very beautiful game and it can create a unique, relaxing atmosphere once you find your perfect way to play it.