Stardew Valley trees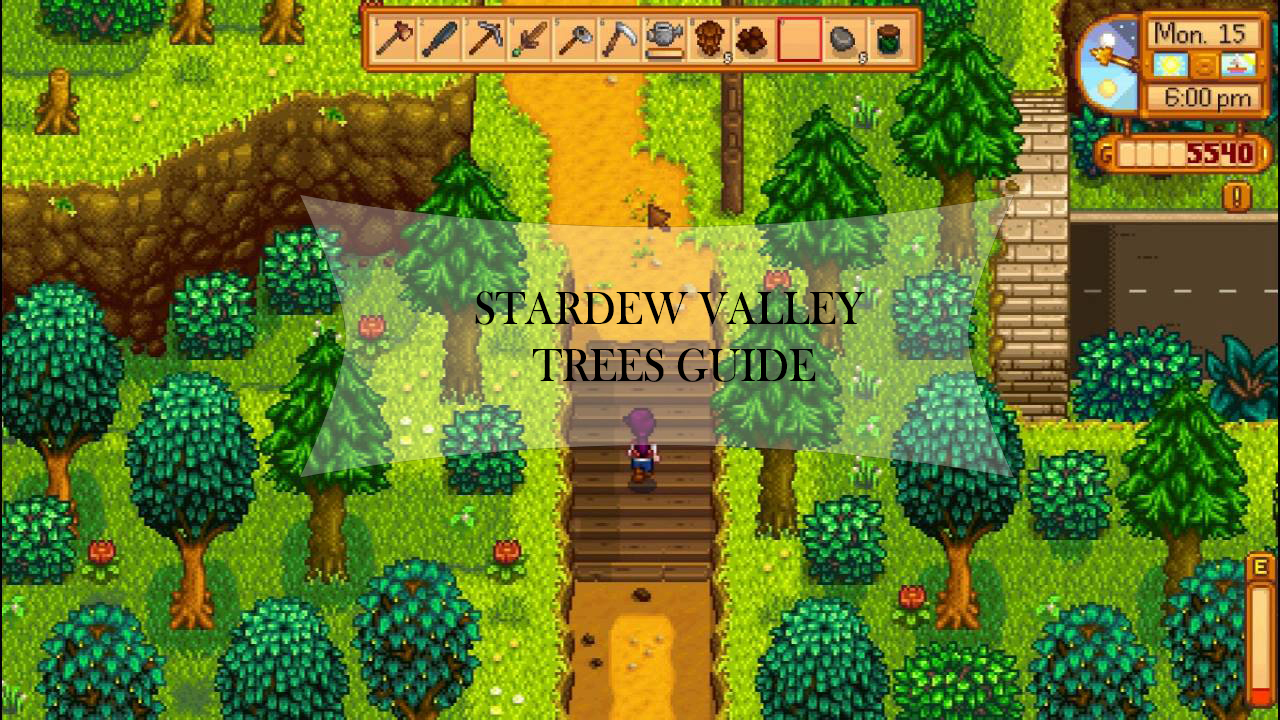 Stardew Valley is very deep when it comes to variety of plants and items. For us, a good choice of various items and possibilities gives a perfect chance to spend some time in Stardew Valley.
Let's take a closer look to trees in Stardew Valley. This small guide will help you to decide whether you should or shouldn't plant trees in your farm, or if you already have them planted – we will help you to grow them properly. Let's get straight to the point!
Trees in Stardew Valley are not just for nice environment. Most of them can be tapped by a tapper, which will produce maple syrup, oak resin or pine tar (depends on the type of a tree). Fruit trees, as you would guess, are for fruits. There are a few different fruit tree types to choose from, which we will talk about each of them later.
Creating a tree farm is another way to profit. It will produce various fruits and syrups, which can be sold or used for your own purposes. So, no matter if you are a new or experienced player already – we are sure that in a few minutes you will find something you still didn't know.
TREE FARM
Farming in Stardew Valley is pretty wide, having in mind that there are many different types of crops, trees and animals. Tree farming is the most unique of them, because you will need patience to get some fruits.
What is the difference between common and fruit trees you may have been thinking. The answer is simple – fruit trees hold fruits, which can be gathered once every few days. Common trees are useful only for srup, resing, etc. Of course, you can chop trees down for wood, but that is a whole different type of farming.
So, what are the trees? Which one to choose? Let's take a look at a list of available trees in Stardew Valley and discuss some of the main info about them:
Common trees:

Maple tree – one of the most commonly met tree in Stardew Valley. Most players just chop them down, as they often are in a way while farming. You can use tapper and gather maple syrup every 7 to 8 days, which can be sold for 200 g. a piece. Maples grow from maple seeds.
Oak tree – a very common tree in all kinds of environment. This tree can produce oak resin every 6 to 7 days with the help of a tapper. Oak trees grow from acorns.
Pine tree – these trees are from conifers group. You will find them in many places, especially in forests. Using tapper, you can collect one pine tar every 4 to 5 days.
Fruit trees:


Apricot – fruits being produced only during spring. You will get to harvest fruits every day during spring and sell a piece of fruit for 100 g. for the best quality one. You can buy apricot sapling in Pierre's general store for 2000 g.
Cherry – fruits being produced during spring only. You can harvest fruits every day during that season and sell them for 160 g. a piece for the best quality fruits. Cherry sapling are being sold in Pierre's general store for 3400 g.
Orange – fruits are only being produced during summer. You can gather fruits every day during summer and sell them for 200 g. a piece for a best quality fruits. Orange saplings can be found at Pierre's general store being sold for 4000 g.
Peach – fruits will only be produces during summer. You will be able to gather them every day and use for your own purposes or sell for 280 g. for each highest quality fruit. You can buy peach saplings in Pierre's general store for 6000 g.
Apple – fruits will be produced only during fall. You will be able to gather them every day and use them for cranberry candy or sell for 200 g. for each best quality fruit. You will find apple sapling in Pierre's general store being sold for 4000 g.
Pomegranate – these fruits are only produced during fall. You can gather them every day and sell for 280 g. for each best quality fruit. You can buy pomegranate fruit saplings for 6000 g.
Special trees:
Mushroom tree – there is a small chance that this tree will spawn in your farm during fall. You can't plant them and once they appear, they can be chopped down or tapped.
Palm tree – you can find them only in The Calico desert. Shake or chop them down to gather coconuts. You cannot get any seeds from them or use a tapper on them.
All trees will last during all seasons and will not die. But fruits can only be collected during relevant seasons.
A very interesting fact: every fruit tree will mature during the years. It means it will produce silver star-quality fruits after one year, gold star after two years and etc. So, plant trees carefully, because you will not be able to relocate it later!
HOW TO GROW TREES IN STARDEW VALLEY?
Growing trees in Stardew Valley is exactly simple as it looks, but you still have to know all the basics and main tips to have that nice and cozy farm for you to manage.
The first question is which type of tree to choose?
Well, in fact, tree farming is not very profitable compared to crops, but trees are sure a very good looking part of a farm and should really be considered since they are not useless. Try many of them if possible, because there is no very noticeable difference between profits from each of these trees. But if a profit is your number one goal – there is an exception:
Plant trees in your greenhouse. Once you have a greenhouse, you can plant many various crops in it, but take a look at empty tiles around the growing-area – you can plant trees here! You are able to plant 16 trees in that area, but you cannot plant anything else than trees here, so it means that you are not wasting any space. By the way, trees in a greenhouse reproduce all year long!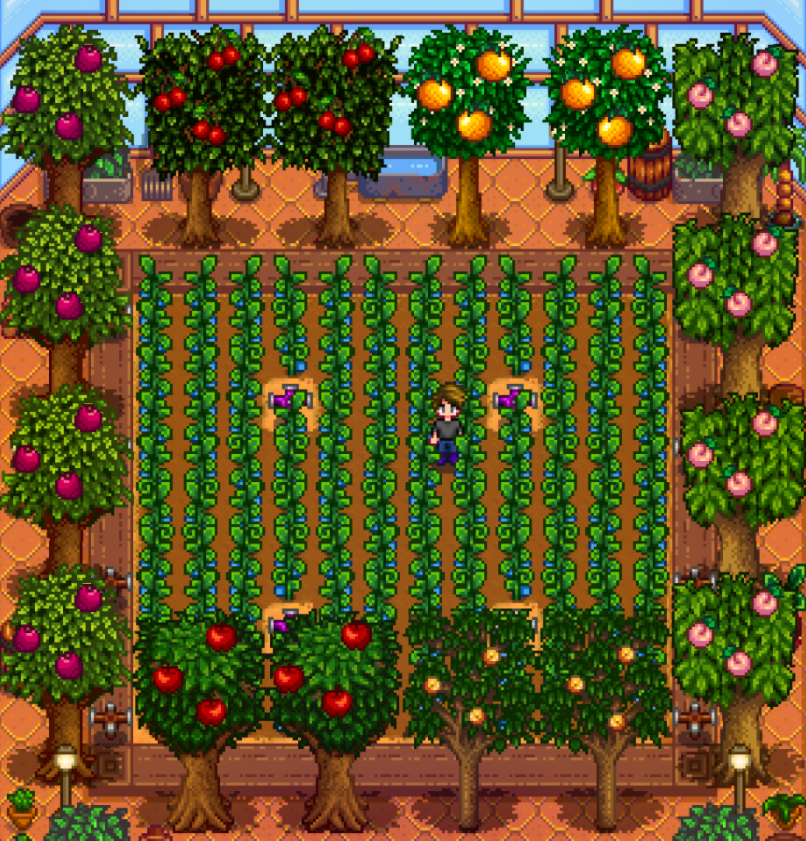 How to actually grow trees?
First of all, go to Pierre's general store and buy yourself a desired sapling. Once you get back to your farm – plant it wherever you like. Remember that each tree requires 8 empty tiles around it to grow. It means that if you plant many trees in one line – the smallest possible gap between each of them has to be 2 tiles.
A fruit tree will fully grow in 28 days. After that, a tree will reproduce fruits every day during a relevant season.
After all, you can sell these fruits or use them for crafting recipes.
And that is it! Tree farming is really simple and you should try it, especially if you have a greenhouse built already.