Stardew Valley: Jas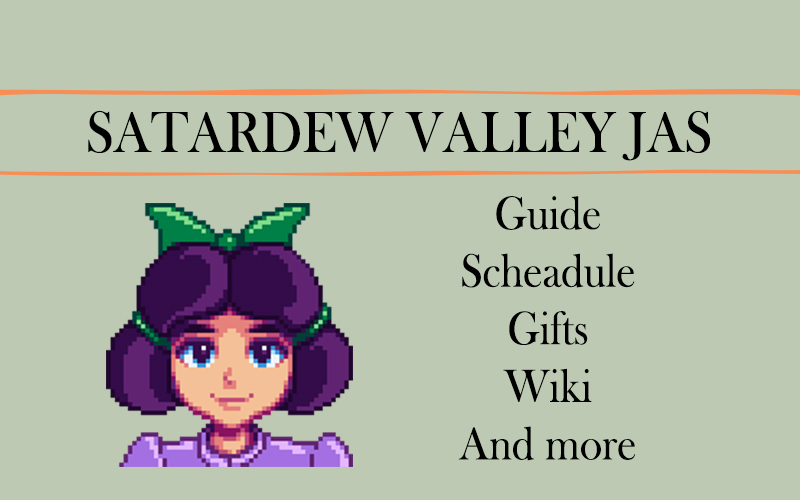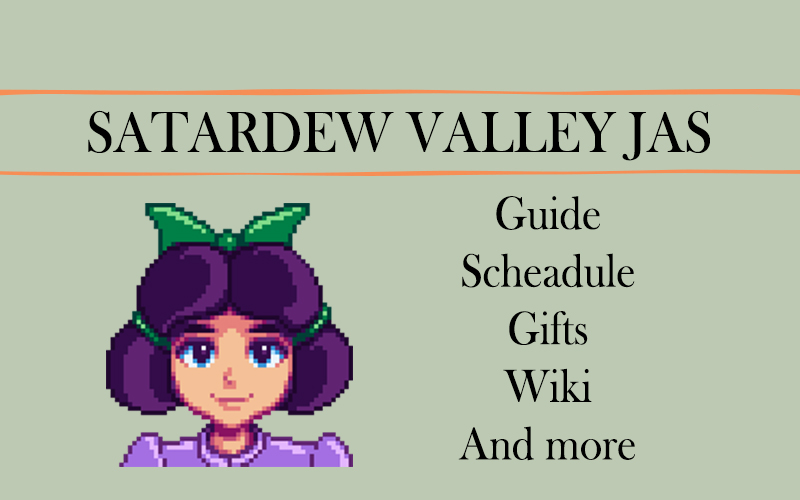 Jas
Information
Birthday:
 Summer 4
Lives In:
Cindersap Forest
Address:
Marnie's Ranch
Family:
Marnie (Aunt)

Shane (Godfather)

Friends:
Vincent
Marriage:
No
Best Gifts:
Fairy Rose Pink Cake Plum Pudding
Stardew Valley Jas is one of the Stardew Valley children who lives in Cindersap Forest which can be found south of the farm, just outside of Pelican Farm. Jas is a unique character and is basically an orphan as her parents, sadly and mysteriously, both died of unknown causes. She lives on her aunt Marnie's ranch along with her godfather Shane which is just outside of town in Cindersap Forest.
Schedule
Stardew Valley Jas can usually be found with Vincent who is a villager that lives in the southern part of Pelican Town. Jas and Vincent are both tutored with Penny at the Museum on Tuesday, Wednesday, and on Friday. The reason for the Museum is because there isn't a school close enough to them. And one of the reasons she is seen with Vincent as often is that he comes from a town that is close to and is the only resident near her.
In summer, on Thursdays, you can find her on the beach with Sam and Vincent, from 2:50 PM to 4:00 PM. On Sundays, she goes to the beach at 1:20 PM. On rainy days, she doesn't leave her house at all.
During fall, on Mondays, she visits Cindersap Forest at 12:00 PM. On Saturdays, you can meet her near Emily's house, where she talks to Penny and Vincent. On Sundays, she also visits Marnie's Ranch from 4:00 PM to 7:00 PM.
In winter, she mostly spends time in the Museum, but on Sundays, you can also find her at Travelling Cart, jumping rope.
Stardew Valley Gift Guide: Jas Edition
Jas likes to get gifts just like anyone else. If you check the Stardew Valley Gift Guide you can see that Jas has a few favorite gifts, a Fairy Rose, a Pink Cake, and Plum Pudding. You are able to gift Jas twice per week and of course, a gift for her birthday. You'll know when you give Jas the right Stardew Valley gifts that she loves and she will exclaim "*gasp*…Wow!! Thank you!" It's easy to remember that she hates most fruit except Fruit Tree Fruit and Coconut, and all vegetables except for wheat and hops. She likes Coconut and Daffodil along with items classified as Universal Likes.
Neutral stuff that Jas won't be happy about are all Universal Neutrals and any kinds of Milk.
She dislikes all the things you will find in the Universal Dislikes category, except for Clay, and she especially dislikes Wild Horseradish. She doesn't like any eggs at all.
She won't like anything you give her from the Universal Hates list and doesn't like any Artisan Goods, with the exception of Oil and Mead.