Stardew Valley Haley Guide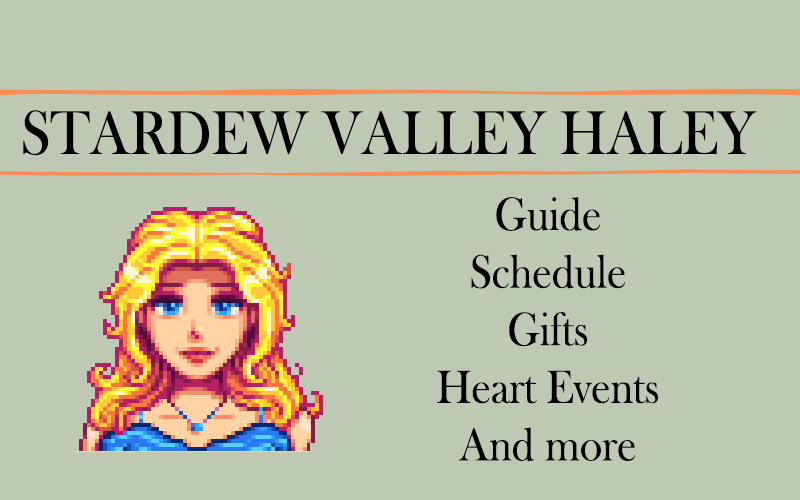 "Lord, somebody, somebody, can anybody find me… somebody to love?!" Yes, we can! And we keep introducing girls of Stardew Valley. In this article, we will talk about Haley – the most glamorous and popular villager, which makes her not an easy target for your sympathy. However, following our useful tips, you'll surely impress her and get marry soon.



Haley is used to a lot of male attention, so she's a kind of selfish and prejudiced. She likes to judge people by unnecessary details, but who knows, maybe there's a kind and smart girl under this mask of Barbie girl? Haley is a one of 12 characters you can marry, she lives in Pelican Town. Stardew Valley romance is impossible without good preparation, since you need to meet a girl at the right time, at the right place. That's why we made a short schedule, which will help you find a path to her heart, or at least, become friends.
Haley's Schedule
Haley's habits change every month, so let's start from spring.
In spring, she spends most time near the Community Center, staring at the fountain. You have great chances to meet her there from 12:20 PM to 4:30 PM. Most often she's at home, cooking. On Monday, at noon, she goes south of Marnie's Ranch, to take some pictures. It's a nice place to meet her by the river and start a conversation.
When summer arrives in Stardew Valley, Haley lies on the beach from 11:50 AM to 1:30 PM. You can find her on the upper left side there. She also spends a lot of time at Alex's ice cream stand. If you don't know where it is, just go to library, and you'll find this place right next to it. On Wednesday she's at home all day.
During the Fall season she often stands by the fountain until 4:30 PM. On Monday you have a great chance to meet her by the river, which is south of Marnie's Ranch. On Tuesday she's at home.
In winter, Haley's at home all the time. She may be in her room, in Living room or in the Kitchen



Don't forget that her behavior may change if it rains or snows. These days, she'll surely stay at home.
Stardew Valley Gift Guide: Haley Edition
If you want to become friends with Haley, or even more, if you want her to love you, you need to give her gifts. You can give her up to 2 gifts every week. However, if it's her birthday, and you've already given her two gifts, you still must give her an extra birthday gift.
All gifts may cause various effects, either increasing or decreasing your friendship with her. You'll earn friendship points if she will appreciate your gift. Otherwise, a bad gift will have an equal negative impact on your relationship. Don't forget that birthday gifts have increased effect (it multiplies by 8), so choose your present carefully. And yeah, her birthday is Spring 14, you better note that.
Just like other villagers, Haley may love, like, dislike or hate your gift. She also may be neutral to some stuff. Haley loves all gifts from Universal Loves category, except Prismatic Shard (she really hates it). If you want to impress her, give her Sunflower, Fruit Salad, Coconut, or Pink Cake.
Haley likes all the gifts from Universal Likes but Vegetables. She would also appreciate Daffodil.
We suggest you not to give her Universal Dislikes, Milk, Eggs, Vegetables, and Fruit. She also doesn't like Common Mushroom, as well as Chanterelle, Hazelnut, Quartz, Winter Root, Morel, Snow Yam, Leek, Dandelion, Holly, and Purple Mushroom.
Never give Haley Wild Horseradish, Clay or Prismatic Shard, as well as Universal Hates and Fish.
Haley heart Events
Let's start from the two-heart event. Visit Haley at home, where she's fighting with Emily about cleaning the cushions. Tell Haley that it could be her weekly job and get +30 friendship points.
The four-heart event is at Haley's home, where she cannot open a jar. Help her and get another 30 points.
Let's move to six-heart situation. Meet her at the Beach and you'll hear that she's really sad about missing her grandmother's bracelet. Say that you're sorry and find it behind a shrub, right of Elliott's cabin. She'll be impressed and you'll get 50 points. She also will hug you.
For eight hearts with Haley, Stardew Valley has the following scenario. Meet her at Marnie's Ranch and take some photos with her. She'll try to climb on a cow, then she'll fall, and it will be a lot of fun, so next morning you'll find a letter from her.
Finally, ten-heart event is at her house. She'll show you her dark room where she develops photos. Tell her that you really like it, and when she asks what you two should do next, just give her a sweet kiss.
Finally, here's a secret trick for you. If you want to get straight from eight hearts to ten, use Stardew Valley bouquet bug: give Haley multiple bouquets and you'll be pleasantly surprised!
Read our useful advice and get more fun!